UN envoy, Murr discuss protests against UNIFIL in south Lebanon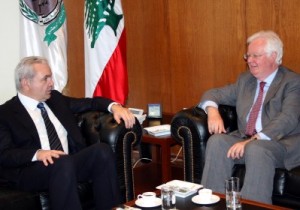 UN Special Coordinator for Lebanon Michael Williams met with Lebanese Defense Minister Elias-al Murr on Wednesday to discuss the recent protests by residents in South Lebanon against UNIFIL, according to a statement from Williams' press office.
On July 3, a UNIFIL patrol was attacked and overpowered by Shi'ites in the southern village of Kabrikha. Officials said the villagers, after one of them had been arrested, pelted UN troops and seized their weapons.
On June 29, Shi'ites attacked a UNIFIL vehicle between the villages of Adeisseh and Kfar Kila. The Shi'ites blocked a road and hurled stones toward a UN patrol during what officials termed a "maximum deployment exercise." The exercise, meant to ensure troop readiness, was said to have ended on the following day.
Williams emphasized in the statement that only some, not all villages have demonstrated against UNIFIL in the area.
The two men agreed that cooperation between UNIFIL and the Lebanese Armed Forces (LAF) is necessary for stability in the South, but cooperation must be maintained and even bolstered, according to the statement.
Williams said UNIFIL must have the leeway to move around in the southern region in order to support the LAF and implement UN Security Council Resolution 1701.
The resolution ended the 2006 war in Lebanon and called for a maximum deployment of 15,000 UNIFIL troops to maintain stability in the country.
"It is incumbent on the Lebanese authorities to ensure the security and freedom of movement for UNIFIL within its area of operation," UNIFIL commander Maj. Gen. Alberto Asarta Cuevas said last weekend
Update: Following the meeting Murr said that the Lebanese army will accompany UNFIL troops in all its future missions, adding " just like the UN we are equally keen on ensuring the , safety , security and freedom of movement of UNIFIL".