Lebanon's Sunnis to mourn the death of Fadlallah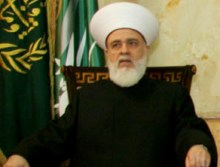 Grand Mufti of the Lebanese Republic Sheikh Mohammad Rashid Qabbani, the highest Sunni Muslim spiritual authority ordered Dar al-Fatwa and its institutions throughout Lebanon to close on Tuesday to mourn the death of Lebanon's top Shiite cleric Sayyed Mohammad Hussein Fadlallah, the National News Agency (NNA) reported.
Qabbani also called Fadlallah's family, Speaker Nabih Berri, and Hezbollah Secretary General Hassan Nasrallah to offer his condolences.
Fadlallah died on Sunday at the Bahman hospital in Beirut after being admitted for internal bleeding on Friday. He was 75 years old.