Biden meets with Iraqi Shiite leaders to speed up government talks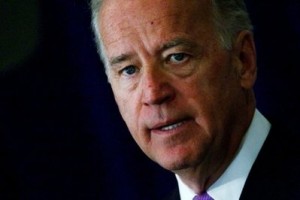 U.S. Vice President Biden met with two Shiite political leaders clashing over which one will lead the nation and urged both men to speed up sluggish negotiations, which have stalled the formation of the next government, Iraqi officials said Sunday.
Biden met first with secular Shiite Ayad Allawi, who won the most seats in Iraq's parliament by a razor-thin margin over Prime Minister Nouri al-Maliki. The two sides have made little progress toward an agreement in the nearly four months since the election, but Iraqi officials say they hope to reach a deal in coming days.
"Everybody is fearful a change will happen if the power gets out of their hand," said Hajim al-Hassani, a Sunni legislator from Maliki's State of Law bloc. "The Shiites don't want to lose the power, the Kurds don't want to be weaker, and the Sunnis want to come back and be much more powerful in the formation of the government."
Members of Allawi's Iraqiya bloc called the meeting with Biden "positive."
During the 1 1/2 -hour session, Biden emphasized the U.S. commitment to a "long-term strategic" relationship with Iraq, said Maysoon al-Damluji, a member of the bloc who attended the meeting. Biden was accompanied by U.S. Ambassador Christopher R. Hill and Gen. Ray Odierno, the top military commander in Iraq, as well as other officials from the U.S. Embassy. At the end of the meeting, Allawi and Biden spoke privately for 15 minutes.
Biden then met with Maliki at the prime minister's residence.
"The message that Biden conveyed is that the government should be formed by Iraqis without any regional interference," government spokesman Ali al-Dabbagh said on state television.
Biden is worried about the delay in forming the government, Dabbagh said, because the U.S. administration does not want a security vacuum.
"America knows the limits of its interference," Dabbagh said. "Biden said, 'I'm here not to support any party or side,' " and did not give specific suggestions, he said.
Later Sunday, Iraqi police said five mortar rounds landed inside the heavily fortified Green Zone, where Biden had been meeting with Iraqi officials earlier in the day. An official at the U.S. Embassy said in an e-mail that "a small explosion" was being investigated but that no one was injured. One round apparently landed inside the embassy compound; loudspeakers called for people to remain under cover.
The vice president marked the Fourth of July holiday by attending a naturalization ceremony for soldiers who were becoming U.S. citizens. It was held at an ornate palace that once belonged to Saddam Hussein but now is headquarters to U.S. forces.
After arriving here Saturday, Biden aides stressed that the summer troop drawdown to 50,000 by Sept. 1 would not be affected by the formation of a government or the lack of one. There are currently 77,500 U.S. troops in Iraq.
As Biden and U.S. troops celebrated the holiday, two suicide bombers struck in western and northern Iraq.
The deadliest attack occurred in Ramadi, about 70 miles west of Baghdad, when a female suicide bomber slipped past four checkpoints and blew herself up just outside the governor's office. Five people were killed and 37 were wounded, said Maj. Firas al-Dulaimy, a police spokesman.
In Mosul, a man dressed as a juice vendor approached a police station, near the provincial council building. When he didn't heed calls to stop, police shot him and he detonated explosives, wounding two police officers. Also Sunday afternoon, police said a car bomb in the oil-rich city of Kirkuk wounded 14 people when it was detonated near the Sunni endowment, an institution that oversees the sect's mosques, and the provincial council building.
As many Iraqi officials called for more U.S. pressure to speed up the political process, a few hundred followers of Shiite cleric Moqtada al-Sadr demonstrated against the visit in the southern city of Kufa on Sunday. Sadr is against the U.S. presence. Washington post