Israel is adding Lebanon gas to its list of robberies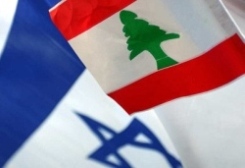 As if stealing Palestine was not enough, Israel is now trying to legalize the stealing of Lebanon's gas.
Tel Aviv has tasked its Knesset with ratifying a legislation that would legalize the theft of Lebanon's gas .
The government intends to present the Knesset with a law which would make the international waters between Palestine and Lebanon the property of Israel paving way for the seizure of the offshore gas fields, according to Israeli television report on Sunday.
"The Israeli government is dealing with the discovery of the natural gas fields in the Mediterranean as an Israeli discovery that no one else has a right over," Israeli TV quoted government sources as saying.
"The executive committee in the government and Knesset are working on reaching a law that would not leave room for any Lebanese rights," they said.
Israeli threats
Israeli National Infrastructure Minister Uzi Landau said last week during an interview with Bloomberg that Israel would use force to defend the oil and gas reserves off its northern coast.
"We will not hesitate to use our force and strength to protect not only the rule of law but the international maritime law," Landau said. "Whatever we find, they will have something to say. That's because they're not challenging our findings and so-called occupation of the sea. Our very existence here is a matter of occupation for them. These areas are within the economic waters of Israel."
Hariri's reaction
Addressing the issue of drilling for oil in the Mediterranean, Hariri said on June 25 in Tunis at the end of his two-day trip: "Israel has nothing else to do but threaten and intimidate the Lebanese."
He added that Israel does not hold any goodwill towards the Arabs, who only seek peace.
"The stability in Lebanon is what's threatening Israel," he concluded.
Berri's reaction
Lebanese Parliament Speaker Nabih Berri had reacted by saying that "Israel is racing to make the case a fait accompli and was quick to present itself as an oil emirate, ignoring the fact that, according to the maps, the deposit extends into Lebanese waters."
USGS report
The U.S. Geological Survey estimated a mean of 1.7 billion barrels of recoverable oil and a mean of 122 trillion cubic feet of recoverable gas in the Levant Basin Province using a geology based assessment methodology.
The Levant Basin is surrounded by Lebanon, Israel, Palestine , Cyprus and Syria.