Obama eulogizes US Sen. Robert Byrd
Charleston , W. VA- Under a brilliant blue summer sky, the late US Sen. Robert Byrd (D) of West Virginia was honored and eulogized Friday for his life of service, scholarship, and dedication to the people of his home state.
In a memorial service on the grounds of the State Capitol in Charleston, W.Va., regular folks and presidents alike gathered for a public celebration marked by moments of grace and humor, and filled with remembrances of a truly unique figure in American history. Musical selections woven throughout reflected Byrd's love of music and Appalachian roots. Senator Byrd died on Monday.
President Obama called Byrd, the nation's longest-serving legislator and a fierce protector of the US Constitution, a "Senate icon" and an "elder statesman." Former President Clinton applauded his skill as a fiddler and fondly remembered being lectured by him over the line-item veto. Victoria Kennedy, the widow of the late Sen. Edward Kennedy, recalled how Byrd and her husband were "briefly foes," but became the best of friends as they fought together for civil rights and equal rights.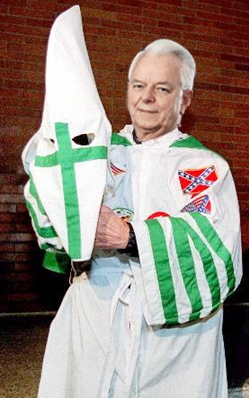 The symbolism of having America's first black president eulogizing Byrd, a onetime member of the Ku Klux Klan, was lost on no one. Clinton was the only speaker to mention Byrd's early KKK affiliation directly. Obama alluded to it.
"We know there are things he said and things he did that he came to regret," Obama said. "I remember talking about that the first time I visited with him. He said: 'There are things I regretted in my youth; you may – you may know that.' And I said: None of us are absent some regrets, senator. That's why we enjoy and seek the grace of God."
"And as I reflect on the full sweep of his 92 years, it seems to me that his life bent towards justice," Obama said. "Like the Constitution he tucked in his pocket, like our nation itself, Robert Byrd possessed that quintessential American quality, and that is a capacity to change, a capacity to learn, a capacity to listen, a capacity to be made more perfect."
But far more important to the memory of Byrd is his legacy as a senator and a devoted West Virginian.
Gov. Joe Manchin (D) noted that, in Byrd's 57 years in the Congress (51 of them in the Senate), he cast more votes and held more leadership positions than anyone ever had. Byrd also knew how to deliver federal dollars to a rural, poor state that had only four miles of divided highway when his political career started. Byrd was responsible for more than 50 projects in West Virginia that bear either his name or that of his wife, Governor Manchin said.
"He has been called a patriot and warrior of the US Constitution," Manchin said. "However, the best way to describe him is architect of Appalachia."
As speakers shared their remembrances, people in the audience dabbed their eyes.
Byrd was also a family man.
He was married to his high school sweetheart, Erma, for nearly 70 years, until her passing in 2006. They had two children, six grandchildren, and seven great-grandchildren. At the memorial service, two of Byrd's great grand-daughters placed a wreath next to his West Virginia-flag-draped coffin, which sat next to the lectern. At times, speakers addressed their thoughts toward the coffin, as if speaking to Byrd himself.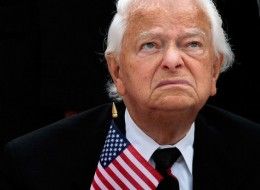 When his wife died, Byrd was known to comment that he was ready to join her. That he stuck around for another four years is a testament to the strength of his devotion as a senator. He had made clear that he wanted to be the longest-serving senator in history, a milestone he reached last December. Byrd's longevity also allowed him to cast critical votes for health care reform and other causes in the Obama agenda.
"He never stopped fighting," said Vice President Joe Biden. "How many people would have hung on as long as he did? How many people would have the ability to get back out of that hospital bed and get in a wheelchair and come in and vote?"
After a haunting bagpipe rendition of Amazing Grace, the service ended with a southern twang: A solo banjo played the John Denver classic "Take me Home, Country Roads," then the crowd joined in singing. CSM