UN concerned over protests against UNIFIL in south Lebanon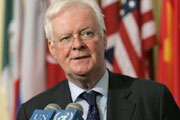 A United Nations official on Thursday expressed concern over protests by villagers against UN peacekeeping troops deployed in southern Lebanon.
"I'm very concerned about the incidents that took place and I know that the Security Council members are also concerned," Michael Williams, the UN special coordinator for Lebanon, told a news conference.
Williams, who is scheduled to brief the Security Council on Lebanon this month, said villagers staged 20 separate protests this week against the United Nations Interim Force in Lebanon (UNIFIL).
The protests came during a maximum deployment exercise on Tuesday by UNIFIL, charged with overseeing a ceasefire between Israel and Lebanese militant group Hezbollah.
Protestors pelted stones at UNIFIL vehicles, slightly wounding a peacekeeper in Khirbit Silm, some 18 kilometres (11 miles) from the border.
"Some of these (protests) may have been something spontaneous in the street, but some were clearly organised," Williams said, singling out one incident that he said involved around 100 people.
UNIFIL spokesperson Neeraj Singh told AFP the exercise was a "regular activity" with no special operations and the Lebanese army had been fully informed of the nature and purpose of the exercise.
But the Lebanese government released a statement on Wednesday night saying the troops should coordinate with the Lebanese military and "execute all exercises in collaboration with the army."
Israel and Hezbollah fought a devastating war in the summer of 2006 that killed more than 1,200 Lebanese, mainly civilians, and 160 Israelis, mainly soldiers.
The month-long war was was brought to an end by UN Security Council 1701, which expanded the mandate of UNIFIL troops, originally formed in 1978 after the outbreak of Lebanon's 1975-1990 civil war.AFP