Nicolas Hayek Dies at 82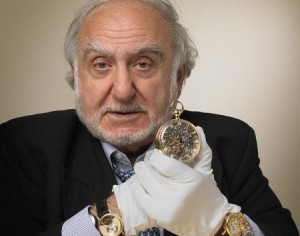 Nicolas Hayek, a Lebanese-born business consultant who is widely credited with having saved the Swiss watch industry with the introduction of the Swatch, the inexpensive, plastic — and, as it transpired, highly collectible — wristwatch that made its debut in 1983, died Monday in Biel, Switzerland. He was 82.
Mr. Hayek, a founder and the chairman of the Swatch Group, died of heart failure while working at the company's headquarters, according to an announcement on the company Web site.
The formation of the Swatch Group, which in addition to Swatch today comprises high-end watch brands like Breguet, Omega, Longines, Tissot, Calvin Klein and Mido, made Mr. Hayek one of Switzerland's wealthiest men. The exquisite irony is that the company came about after Mr. Hayek was brought in to help shut the foundering Swiss watch industry altogether.
A flamboyant figure with a roguish sense of humor, Mr. Hayek was "a rare phenomenon in Europe — a genuine business celebrity," as The Harvard Business Review described him in 1993.
Nicolas Hayek was born in Beirut in 1928 and moved to Switzerland as a young man. After studying mathematics, physics and chemistry at the University of Lyon in France, he started a consulting firm, Hayek Engineering, in Zurich in the early 1960s.
By the 1970s, the vaunted Swiss watch industry, a pillar of the national economy for centuries, was in jeopardy. Japanese watchmakers like Seiko had begun to undercut Swiss prices. And public tastes were shifting from the finely wrought analog timepieces in which Swiss artisans had long specialized to the pale flickering faces of mass-market digital watches.
In the early 1980s, with no apparent remedy in sight, a group of Swiss banks asked Mr. Hayek to compile a report on how the watchmaking industry might best be liquidated. Instead, he merged two of its former titans, Asuag and SSIH, which between them owned brands like Omega, Longines and Tissot.
Mr. Hayek bought a majority stake in the reorganized group, known as SMH — the Société Suisse de Microélectronique et d'Horlogerie. (He was fond of telling interviewers that the initials stood for "Sa Majesté Hayek" — "His Royal Highness Hayek.")
In 1983, SMH introduced the Swatch. Lightweight, with vibrantly colored bands and breezy novelty faces, it was remarkably inexpensive to produce. (It had 51 parts, as opposed to the nearly 100 needed to make a traditional wristwatch.) It retailed for less than $35 when it was first marketed in the United States later that year.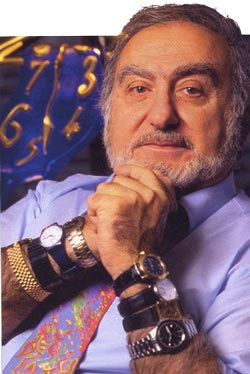 The Swatch quickly became a sought-after collector's item worldwide. It was very likely the first time that ordinary people had even considered owning multiple watches. (Mr. Hayek himself was known to appear in public wearing as many as eight — four to an arm — though at least a few of these were from his luxury brands.) Several hundred million Swatches have been sold since the brand's inception.
The success of the Swatch also resuscitated the high-end brands under the SMH umbrella. The company, whose name was changed to the Swatch Group in the 1990s, generated about $4.9 billion in sales last year, The Wall Street Journal reported on Monday.
By redirecting consumers' attention to Swiss watchmaking as a whole, the little plastic watch lifted all boats. Even the expensive brands, like Breguet, "we will continue to sell — and sell well," Mr. Hayek told the publication Swiss News in 2008. He added, "We sell the mentality of Switzerland."
Mr. Hayek stepped down as the Swatch Group's chief executive in 2002 and was succeeded by his son, Nicolas Jr. His daughter Nayla sits on the company's board. Information about other survivors could not be confirmed.
Over time, the humble Swatch itself was borne upward by its own success: the company has issued limited-edition Swatches designed by noted artists like Keith Haring. In 1992, The New York Times reported, a Swatch by Kiki Picasso, a pseudonym of the French artist Christian Chapiron, sold at auction at Christie's in London for $28,000. NYT