Lebanon PM rejects naturalization of Palestinians
Lebanon Prime Minister Saad Hariri said on Tuesday that while Lebanon has social and humanitarian responsibilities toward Palestinian refugees living on its territory, it will not permit their naturalization.
Hariri's remarks come as the parliament was split earlier this month over Progressive Socialist Party leader MP Walid Jumblatt's bill for granting Palestinian refugees civil rights and allowing them to own property in Lebanon.
Hezbollah and Amal MPs voted in favor of the bill, while the Phalange party , Lebanese Forces and Change and Reform blocs voted against it.
"Lebanon will not abandon the Palestinians and their right of return to their homeland ," Hariri said in a speech at a conference of the Lebanese-Palestinian Dialogue Committee held at the Grand Serail.
"There are humanitarian, social and moral duties that the Lebanese state must fulfill for the Palestinian people," he said.
"But in Lebanon's duties toward the Palestinians, there is no window of naturalization," Hariri also said, adding, "We confirm our commitment to rejecting naturalization and to deal with the issue of weapons in and outside the Palestinian refugee camps."
Hariri, however, stressed that "building the Lebanese state is a priority."
"This small country has paid price in blood for the Palestinian cause, and Lebanon is still committed to this cause," Hariri said.
Equally, Hariri, said, Palestinians living in Lebanon should realize the importance of stability in Lebanon for their cause.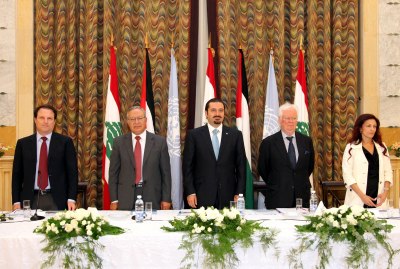 Hariri (C) at the conference of the Lebanese-Palestinian Dialogue Committee that was held at the Grand Serail.