Karami: Tripoli enjoys special relations with Syria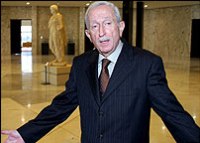 Lebanon's former Prime Minister Omar Karami met with Syrian Ambassador to Lebanon Ali Abdel Karim Ali in Tripoli on Saturday, to discuss strengthening bilateral relations, the National News Agency (NNA) reported.
Following the meeting, Karami said that Tripoli enjoys a special relationship with Syria and that "we do not recognize diplomacy or embassies… we are Arab nationalists," adding that he and the majority of Lebanese hope that relations with Syria will continue to strengthen.
The former PM welcomed the presence of a Syrian ambassador in Lebanon, saying that "experience has proven that if the bilateral relationship is not friendly, natural, and special, Lebanon cannot relax and there will not be stability" in the country. He said the relationship is currently good and stability in Lebanon proves this.
Asked about Israeli threats, Karami said that the Resistance has achieved a balance of power and that he regrets that "the fifth column in Lebanon repeats what Israel and the US say" about disarming Hezbollah.
Asked whether new cooperation would develop between Tripoli and Syrian cities, the ambassador said, "in my estimation, cooperation is ongoing and continual," expressing hope that it would grow.
Karami was the prime minister when former PM Rafik Hariri was assassinated on February 14, 2005 but was forced to resign on February 28 amid protests following the assassination. Karami a, staunch supporter of Syria was accused by the opposition of being behind the Hariri murder. He tried again to form a government on March 10, 2005 but failed.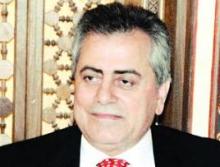 Ali: Lebanon, Syria should unite
Following his meeting with Karami, the Syrian ambassador attended a reception of the .Society of Tripoli Traders. During the reception he said :The dangers facing Lebanon and Syria require the two countries to come together in politics, culture, economy and vision, National News Agency (NNA) reported.
Ali added " the Lebanese and Syrian people share strong family ties, traditions and history, along with a shared enemy and threats."
Ali described Tripoli as a "fortress for Arabism and nationalism."