Lebanon formulates strategy to monitor borders with Syria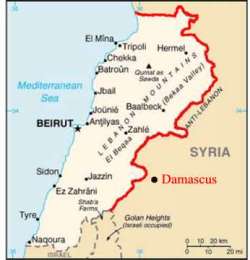 Minister of State Jean Hogassapian announced Thursday an agreement on a "strategic vision" to monitor and control Lebanese-Syrian borders.
Hogassapian spoke to reporters after chairing a meeting at the Grand Serail of the Technical Committee tasked with monitoring and controlling the Lebanese-Syrian borders.
The meeting was attended by High Defense Council Secretary General Major General Saeed Eid, head of Internal Security Forces (ISF) Major General Ashraf Rifi, Director General of Customs Department Shafic Merhi along with an array of security figures.
"We agreed on a strategy regarding the task of security forces and the distribution of checkpoints along the entire borders [with Syria] stretching from the North to the [occupied] Shebaa Farms," said Hogassapian.
The minister added that a joint operation room including members from all security agencies would be opened to control borders and prohibit all kinds of smuggling.
Besides the security measures, Hogassapian said that eight ministries have participated in laying down a plan aimed at boosting economic and social development in border villages.
Lebanon has five official crossings along its borders with neighboring Syria.
Asked about demarcating Lebanese-Syrian borders, Hogassapian said this matter would be discussed between Lebanese Prime Minister Saad Hariri and his Syrian counter part during Hariri's upcoming visit to Damascus.
He added that the agreed upon strategy would be referred to the Cabinet for approval before discussing it with the Syrian authorities.
Also on Thursday, Lebanese Armed Forces Commander General Jean Kahwaji met with Syrian Deputy Defense Minister Major General Ibrahim Safi at the Defense Ministry in Yarze to discuss cooperation between the Lebanese and Syrian armies. Daily Star