Jordan, Syria blast Israeli plan to demolish Jerusalem homes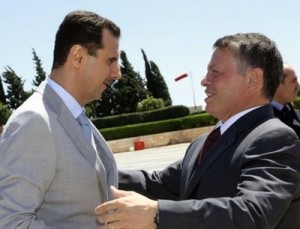 Jordan's King Abdullah II concluded a brief visit to Syria Thursday, during which he joined Syrian President Bashar al-Assad in condemning an Israeli local planning committee's approval of a plan to demolish a number of Palestinian houses in East Jerusalem.
The two Arab leaders denounced 'the unilateral Israeli measures that seek to Judaize the holy city and empty it of its Arab inhabitants, both Muslims and Christians,' a joint communique carried by the official Petra news agency said.
The Israeli plan, brainchild of Jerusalem Mayor Nir Barkat, will see 22 of the 88 homes built without permits in the Silwan neighbourhood demolished, and their residents rehoused in new buildings. The remaining homes would be retroactively legalized.
Abdullah and al-Assad also called for international collaboration to ensure that Israel's three-year blockade of the Gaza Strip be lifted.
They argued that Israel's policies have 'so far prevented the accomplishment of tangible progress' in negotiations with the Palestinians.
The two leaders also warned that the Middle East region 'will not witness security and stability without the accomplishment of comprehensive and just peace.'
'Such peace should be founded on the relevant UN resolutions that ensure Israel's pullout from all occupied Arab territories and the establishment of an independent Palestinian state,' their statement said.