Report: Secret arms from Balkan region to Hezbollah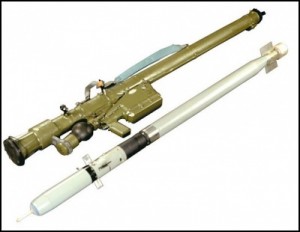 Serbian and Albanian media have published reports about alleged illegal arms trafficking and smuggling originating from the Balkan region toward several countries, including Iraq and Lebanon.
The reports accused officials in both Lebanon and Iraq as well as Hezbollah of involvement.
Serbianna newspaper said Israeli intelligence monitored late in 2009 the sale of 6,000 Katyusha rockets type 107mm by the Albanian government to Chad and Iraq.
The Gazeta Tema, a pro-opposition Albanian daily, meanwhile, accused Albanian Prime Minister Sali Berisha and former Defense Minister Fatmir Mediu of involvement in buying a quantity of anti-aircraft missiles worth $4 million from the Ukraine.
According to the newspaper, anti-aircraft missile systems, including Igla-1 (SA-16-GIMLET) and Igla-2 (SA-18-GROUZE) land-to-air rockets reached Albanian stores before disappearing again after a Lebanese cargo company took charge of shipping them abroad.
These were Soviet-patented rockets of the end of the 1980s, which had also been made by other countries. Igla, with capabilities similar to those of the US Stinger rockets, are very effective against planes, helicopters, and UAV drones flying up to a 5,000-foot altitude.
Gazeta Tema quoted intelligence sources as saying Hezbollah is connected to the Lebanese cargo company which reportedly assists the militant group in the transfer of arms purchased from the former socialist countries, including Albania.
Gazeta Tema pointed out that a number of Bosnians are involved in these operations.
A report in Miami News Times had said the trial of Miami Beach arms dealer Efraim Diveroli, 21, came to raise further doubts about the likelihood of his involvement in the arms shipment to Hezbollah from Albania after it became clear that his partners in Albania were engaged in the same kind of work.
In a related development , at meeting with FYROM 's ( former Yugoslav Republic of Macedonia) Prime Minister Nikola Gruevski last January, Israeli Foreign Minister Avigdor Lieberman said that the Balkan states were the new target of global jihad.
"Current reports clearly indicate that the region of the Balkans is the new target of global jihad, which intends to establish infrastructure and recruit activists there," Lieberman said.
After this statement there came the first reaction from the Bosnian Foreign Minister Sven Alkalaj, who phoned his counterpart Avigdor Lieberman to protest against his statement.
The Bosnian minister told his Israeli counterpart that statements of this kind were baseless and that they harmed his country's international reputation. He added that Bosnia was engaged in a struggle against terrorism and that its intelligence services had no information or data about terrorists being active in their country.
On the other hand the Albanian side did not reacted to Lieberman's statement.
Israeli minister stated also that Hezbollah was channeling money for the establishment of terrorist cells in Albanian-inhabited areas.
In the past years there were many reports in the Albanian media that alleged Ukrainian anti-missile systems were bought by Albania and then illegally re-exported to Hezbollah, via several front companies.
In 2000 and 2001 there were many reports about Al Qaeda activities in Albania . The general anarchy and upheaval in Albania following the collapse of communism had reportedly made it an easy target for wealthy Islamic terrorists, where weapons could be acquired with ease .
Analyst network & Naharnet