Gemayel, Sakr defend Sfeir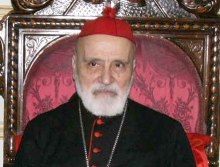 Following his meeting with Lebanon's Maronite Patriarch Nasrallah Boutros Sfeir in Bkirki on Thursday, Phalange Party MP Nadim Gemayel lashed out at Sfeir's critics.
Those who criticize the patriarch's stances are against any person who supports Lebanon's sovereignty, freedom and independence, Gemayel said.
Similarly MP Okab Sakr told the press following his meeting with Sfeir on Thursday that there is no need to misconstrue or fabricate Sfeir's positions.
" Sfeir voices his positions with boldness in a way that preserves national unity. He is clear about having the Lebanese army as the sole armed group in Lebanon," Sakr said.
Gemayel's and Sakr's comments come after Hezbollah criticized Sfeir last week ing to the group as " the so called Hezbollah ". Hezbollah accused Sfeir of insulting the party .
Sakr touched on the possibility of granting Palestinians in Lebanon civil rights, saying that Sfeir supports the initiative, "however, he has reservations over any procedure that would harm Lebanese interests."
Progressive Socialist Party leader MP Walid Jumblatt proposed bill in the parliament last week that will grant Palestinians civil rights and to allow them to own property in Lebanon , a move that stirred controversy in the parliament.
Hezbollah and Amal MPs voted for the bill but the Christian MPs including the Phalange, the Lebanese Forces and the Free Patriotic Movement voted against.