Nasrallah scraps plan for Turkey trip due to security concerns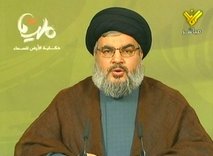 Hezbollah chief Sayyed Hassan Nasrallah has reportedly canceled his trip to Ankara for fear of Israeli assassination ,despite a promised fourfold security shield, Israeli DEBKAfile sources reported.
The sources reportedly said Nasrallah did not feel safe enough to take up Turkish Prime Minister Recep Tayyip Erdogan's invitation to visit Ankara despite the promised protection of the intelligence agencies of Iran, Syria, Turkey and the party's own service.
Nasrallah found that two scenarios of his itinerary to Turkey were risky: Under the first plan, Nasrallah would be flown to Ankara by a Syrian or Iranian military aircraft, DEBKAfile said.
The other plan was for the Hezbollah chief to make his way to Turkey secretly by road through Syria. Nasrallah decided that the 10-hour journey on Syrian highways would expose his convoy to surveillance by Israeli drones, according to DEBKAfile.
Retaliation
Hezbollah has prepared a list of targets the Lebanese militia would hit in the event that Nasrallah or other top officials would be assassinated by Israel, the Kuwaiti newspaper Al Rai reported on Tuesday.