Phalange MP: Zahle bomb explosion is 'a subversive act'
Phalange Party MP Elie Marouni said duuring an interview with Future News on Monday that the bomb explosion in Lebanon's eastern city of Zahle is "a subversive act."
Marouni said that the explosion which took place on the eve of Maronite Patriarch Nasrallah Boutros Sfeir's visit to Zahle was aimed at canceling the visit or to reduce the number of the welcoming crowd.
"Despite political differences, Muslim and Christian factions are immune against attempts to stir up sectarian sentiments," Marouni added.
One man was killed and two were wounded in the bomb explosion in Zahle's industrial zone around midnight Saturday.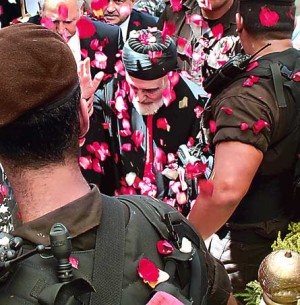 Despite the explosion Sfeir was able to travel Sunday to Zahle and opened the new Saint Maroun Cathedral in the city , which is located in in the Beqaa region. He called for unity and reconciliation among rival Christian factions. The opening ceremony was attended by Minister of Tourism Fadi Aboud as the representatives of President Michel Suleiman, MP Adel Latif al Zaina as the representative of Prime Minister Saad Hariri and Minister Adnan Qassar as the representative of Speaker Nabih Berri.
On the way to Zahle Sfeir was welcomed with huge celebrations in the following towns: Mraijat, Taalbaya, Chtoura, Qub Elias, Jdeita, Moaalaqat Zahle, Qaael Rim and Wadi al Arayesh.