Iran Warns to Retaliate against West's Cargo Inspection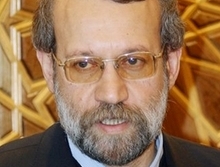 Iranian Parliament Speaker Ali Larijani stressed last Wednesday that Tehran will take retaliatory measures in case Iran-bound air and ship cargoes come under inspection by the West.
"We warn the US and certain adventurist countries that if they are tempted to inspect Iranian air and ship cargos, we will take tough action against their ships in the Persian Gulf and the Sea of Oman," Larijani said in an open session of the parliament here in Tehran on Wednesday.
The Iranian parliament speaker added that the Iranian retaliatory move is part of the country's policy to defend national interests.
Larijani blasted US President Barack Obama's remarks against Iran, and underscored that hypocritical moves against the Iranian nation will be against their interests.
Inspection of Iranian cargos is part of the punitive measures cited in a US-sponsored resolution approved by the UN Security Council on June 9.
The resolution requires the inspection of ships or planes headed to or from Iran if suspected cargo is aboard.
The new sanctions target at least three entities managed by the Islamic Republic of Iran Shipping Lines (IRISL).
An Iranian lawmaker had also earlier warned the western states against practicing the new set of UNSC sanctions, saying that Tehran will reciprocate any unwise move with similar actions.
"Even if one Iranian ship is stopped for security-check, we will act likewise and thoroughly inspect any (western) ship passing through the Persian Gulf and the Strait of Hormuz," member of the Iranian parliament's National Security and Foreign Policy Commission Hossein Ebrahimi said.
"Clearly their ships need to be inspected more than ours," he said, adding that Iran carries out most of its military maneuvers in its strategic southern waters. FNA
US battleships cross Suez Canal
According to Al-Quds al-Arabi report, 11 American warships, one Israeli Israeli corvette, crossed Suez Canal into the Red Sea and are heading to the Arabian ( Persian)  Gulf.
According to the report, thousands of Egyptian soldiers were deployed along the canal to protect the vessels. Both the purpose of the crossing and the significance of Israel's participation were unclear.
There is a lot of speculation that the US-Israeli action may be in response to the Iranian threats of inspecting western ships.
In a related development Israeli Defense Minister Ehud Barak traveled to the United States late Saturday night for talks with senior administration officials .