Berri: Sidon will remain an example of Islamic-Christian coexistence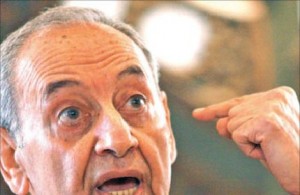 Pamphlets were distributed in East Saida and nearby villages overnight warning the area's Christian residents to evacuate their homes and leave the area within a week, LBCI reported on Sunday.
Prominent Saida figures condemned the pamphlets, calling on authorities to find out who is behind the pamphlets and to punish them, the report added.
At an event hosted in his home in Msayleh in honor of the heads of municipalities of East Sidon's villages Speaker Nabih Berri condemned the pamphlets, calling them a "desperate attempt" that would be met with failure. The incident would not affect the unity of the region's inhabitants, he stressed
Berri added: "The residents of Sidon, East Sidon and all the villages neighboring the capital of the South will prove that national unity and the image of coexistence will not be disrupted by a leaflet written in the dark, for fishy objectives of well-known sources and aims."
he stressed that the city of Sidon and the villages of the East Sidon area "will remain an example of Islamic-Christian coexistence."
At a gathering at the church of Majdalyoun Sunday evening, Roman Catholic Archbishop of Saida and Deir al-Qamar Elias Haddad said "the pamphlets do not frighten the sons of the region," and called on residents "to continue to preserve shared existence."
At the same event, Popular Nasserite Movement leader Osama Saad said "the enemies of Lebanon are trying to provoke division among the sons of a united people," and added that "the sons of Saida stand strong against any attempt to provoke division."
Saad called on security and judicial authorities to deal with the issue.
Lebanese Forces denounce the leaflets
The Lebanese forces in Sidon and Zahrani areas issued the following statement denouncing the leaflets.
1- This cowardly act under cover of darkness is paid work the memory brings back memories of the ugly days that were rejected by the Lebanese people as a whole and specifically the residents of this same region which is enjoying an unparalleled fabric of communal and cultural diversity, social and political of the highest civilized and democratic quality.
2 – The low standard of these pamphlets proves the fact that those behind them are a bunch of kids that do not belong here