Murr opposed to merging Hezbollah with Lebanon army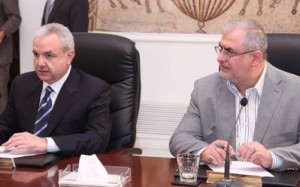 Deputy Speaker Farid Makari's press office issued a statement on Thursday following the national dialogue session in which he called for a timetable for the process of placing Hezbollah's military and rocket power under the command of the Lebanese army.
But Defense Minister Elias Murr  ( shown sitting  next to Hezbollah MP Mohammad Raad) has reportedly rejected during the dialogue session held at Baabda Palace on Thursday the merger of Hezbollah weapons with the Lebanese army.
According to observers , Murr's remarks reflect the thinking of president Michel Suleiman . Murr is one of the ministers in the cabinet that were allocated to the president.
Makari in his statement urged Hezbollah to openly declare that its weapons aimed "exclusively to defend Lebanon against any aggression and are not tied to other axis or alliances."
"Lebanon's current defense power could turn into a risk factor if perceived as part of the wider struggle between Iran and the West," Makari warned.
The dialogue talks , launched in 2006, are aimed at discussing the issue of Hezbollah weapons as part of a national defense strategy.
Makari's statement following the dialogue talks was according to As Safir a confirmation of what he proposed during the session.
Other disagreements surfaced out yesterday during the talks ;
Former Lebanese president and Phalange Party leader Amin Gemayel, called for adopting a "positive neutrality" by separating Lebanese politics and military from regional and international dangers
The idea, he explained, aims at preserving Lebanon's stability on the one hand and guaranteeing its support to Arab causes, particularly the Palestinian conflict, on the other hand.
But Progressive Socialist party leader MP Walid Jumblatt criticized Gemayel's offer, calling for the liberation of Shebaa Farms through "resistance."
Murr's position
Murr's position with regards to Hezbollah is not new
Last March he told Al-Manar television that he does not support integrating the arms of the Resistance within the Lebanese Armed Forces (LAF).
"There are some Lebanese annoyed by the existence of Hezbollah's arms, and I could be one of them," he said, adding, "However, this does not mean we should offer Israel a favor and disarm.
Murr also said that his priority is to successfully defend Lebanese territory.
Murr added that it is not in his interests as the defense minister for arms to belong to parties other than the Lebanese army. However, he said that Hezbollah's weapons deter Israel.