Gemayel: Jumblatt has lost all credibility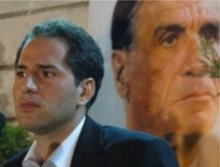 During a press conference at the Phalange party headquarters in Saifi on Friday Phalange party MP Sami Gemayel attacked Progressive Socialist Party leader MP Walid Jumblatt's proposal to grant Palestinian refugees in Lebanon civil rights :
"Walid Jumblatt has lost all credibility in the eyes of the Lebanese people and even in his own eyes. Whatever he says does not warrant a response," Gemayel said.
Gemayel spoke of an alleged Israeli plan to accommodate the Palestinians in Arab countries.
He said he does not know whether Jumblatt's proposal was motivated by "Syrian or personal calculations."
Last Wednesday , during an extraordinary session of the parliament Jumblatt's proposed a bill that grants Palestinian refugees in Lebanon civil rights and allows them to buy property. The bill was referred by Speaker Nabih Berri to the administrative and justice committee to study and submit recommendation to parliament .
Hezbollah and Amal MPs voted in favor of the bill, while the Phalange party , Lebanese Forces and Change and Reform blocs voted against it.
Jumblatt who was unhappy with the vote , attacked the Lebanese rightists for their stand and said "the rightists are dumb and the Lebanese rightists are the dumbest "
"When the Palestinians are integrated into the Lebanese society, this will lead to the termination of the principle of return ( to the Palestinian homeland ) and the Israeli project to accommodate the Palestinians the the Arab countries will be achieved," Gemayel said.