Lebanon dialogue talks to resume on August 19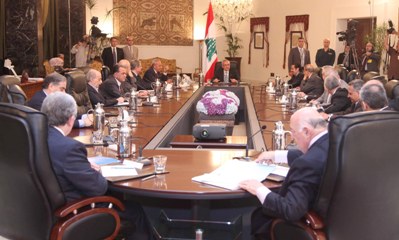 The 10th round of national dialogue talks , chaired by president Michel Suleiman kicked off minutes after 11:00 a.m. on Thursday at Baabda palace with the participation of all members of the dialogue committee, except for Lebanese Forces leader Samir Geagea, former Prime Minister Fouad Siniora and Economy Minister Mohammad Safadi.
Baabda palace sources told As Safir newspaper that the absence of the 3 leaders will not have a negative impact on the national dialogue session because they were all represented in the session by their allies.
All the 3 are out of the country.
The sources said President Michel Suleiman insisted on holding the session on Thursday despite the absences because he wanted to respect dates of major events.
As expected the President updated the committee on the domestic, regional and international developments since the last session and reiterated the importance of dialogue between the parties.
The session lasted nearly 3 hours , following which the president announced that the talks will continue on August 19 and will focus on the country's defense strategy.
Although national dialogue discussions were supposed to be limited to the defense strategy, the rift that emerged at parliament on Tuesday over the civil rights of Palestinians has reportedly resulted in some distractions .
Divisions emerged after Christian MPs from different blocs opposed a proposal by MP Walid Jumblatt to grant Palestinian refugees their civil rights and to allow them them to own property in Lebanon. Most Muslim MPs backed the move, showing sectarian divisions. The crisis worsened when Jumblatt repeatedly called Lebanon's right-wing 'dumb'.
Asked about Jumblatt's comment , former president Gemayel said: " We are moving to North Korea to commemorate the Berlin wall".