Hariri rejects MP Fatfat's resignation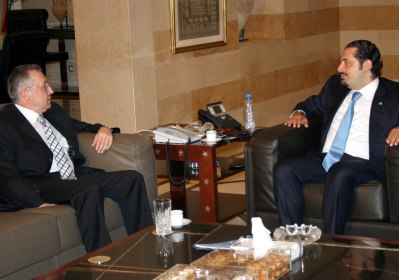 Following his meeting with Lebanese Prime Minister Saad Hariri at the Grand Serail on Thursday, Lebanon MP Ahmad Fatfat told reporters that Hariri rejected his resignation.
Fatfat on Monday said he submitted his resignation to Hariri
During an interview with As-Sharq al-Awsat newspaper on Tuesday, Fatfat said his resignation includes all his political functions, including his position as a member of parliament and as a member of the Future Movement bloc.
Fatfat said on Thursday that several rounds of discussions were held with Hariri's political, media and Future Movement teams in the past few days concerning the reasons for his resignation.
"As a result of the deliberations, PM Hariri told me today that he rejected my resignation from the Future Movement and from my political functions," Fatfat said.
In a detailed report presented to Hariri and former PM Fouad Siniora , Fatfat cited the following reasons for his resignation:
-The inability of the Future Movement's supporters to keep pace with the group's "political project" because of the prevailing feeling that there has been no clarity about the Future Movement's political line since the 2009 parliamentary elections; delay in the restructuring of the Future Movement; and a letup in the public services.
Fatfat said his resignation was also meant to be "an appeal to all Future Movement officials to realize that there are mistakes that need to be addressed quickly."
Fatfat during a press conference also cited what he called "a political ambush" by the March 8 factions during last month's municipal elections in his hometown of Seer in the Donniyeh district, and "mistakes" by the Future Movement for his decision. He added that he was subjected to "a campaign of false allegations and even insults" by his political opponents.
Thanking Hariri for his decision, Fatfat said he has agreed with the PM to improve the Future Movement's performance.