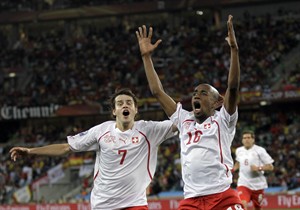 The World Cup needed a jolt. Switzerland provided it.
Gelson Fernandes scored on a rare Swiss attack, giving his team a stunning 1-0 upset Wednesday over European champion and tournament favourite Spain.
The loss ended Spain's run of 12 straight wins and handed the Spanish just their second loss in 50 games — the other was to the United States at the Confederations Cup in South Africa last year.
It also provided a thrill at a tournament that has seen few surprises and just 25 goals after the first game for all 32 teams.
"To be fair, I'm not used to scoring goals, so I was a bit surprised," said Fernandes, who got just his second in international play. "It was a bit of luck."
And tenacity. Eren Derdiyok created Switzerland's big chance in the 52nd minute by surging through the centre of Spain's defence and rounding Iker Casillas. Gerard Pique's desperate tackle stopped Derdiyok, but Fernandes pounced on the loose ball and forced it into the net.
"It's just a special moment," he said.
Spain badly outshot the Swiss and held the ball 63 per cent of the time, but could find no way through Switzerland's determined defence.
"Today wasn't our day," Spain coach Vicente del Bosque said. "We have two games ahead of us. We have to find a way to win them."
It won't be easy. Well-regarded Chile beat Honduras 1-0 in the other Group H opener Wednesday.
The win was Switzerland's first over Spain.
"It was a match we tried to play without abandoning our style," Del Bosque said. "We tried to play heroically and they fell back and tried to stop us."
At the final whistle, Fernandes fell to his knees and raised both arms to the sky. The entire team then went to the small section of Swiss fans in the Moses Mabhida Stadium and saluted them as they cheered and rang alpine cow bells.
"These were three unexpected points," Switzerland coach Ottmar Hitzfeld said before defending his team's defensive play as the only way to nullify Spain.
"If you play an attacking game against Spain, you'll lose and suffer one goal after the next," he said.
History was not on Spain's side: Only two of the last eight reigning European champions had won their opening match at the World Cup _ France in 1986 and Germany in 1998. And Spain has not advanced past the World Cup quarter-finals since its best finish of fourth in 1950.
"We had plenty of chances but they defended very well," Pique said. "I don't think we adapted adequately to their game."
Derdiyok nearly doubled the Swiss lead in the 75th minute when he shrugged off Carlos Puyol's tackle and poked the ball past Casillas only to see the shot rebound off the post.
Spain was lifted before kickoff by the return of Andres Iniesta, but the Barcelona midfielder could not provide the spark to ignite his country's attack. He was taken out in the 77th minute after a crunching tackle from Stephan Lichtsteiner.
Del Bosque brought on Liverpool striker Fernando Torres in the 62nd minute, but he, too, could find no way through the Swiss wall of defenders.
Midfielder Xabi Alonso came closest to equalizing when his powerful drive in the 70th minute slammed into the crossbar.
David Villa was Spain's most dangerous forward, but the top scorer from the European Championships in 2008 repeatedly saw his efforts blocked or go wide.
Villa got by Lichtsteiner in the 10th minute, but goalkeeper Diego Benaglio dived at his feet to snuff out the chance. Then his free kick deflected wide off the wall after Stephane Grichting pulled down Iniesta just outside the penalty area.
With Spain's forwards sputtering, it was centre back Pique who came closest to breaking the stalemate when Iniesta's through ball in the 24th minute set him free and he fired low — only to see Benaglio save the shot.
"He's a world class keeper with one-on-one situations," Hitzfeld said. "He was decisive to our win."
Fernandes put it even more simply. "We defend very well," he said.
The numbers back him up.
Switzerland was knocked out of the last World Cup on penalty kicks by Ukraine in the round of 16 without conceding a goal in the tournament and has now gone 490 minutes in World Cup play without being scored upon.
The Spaniards now have other things to worry about.
"This is just the first match, everyone agrees that we have to fight to get out the group," Del Bosque said. "No one in the team has ever talked about getting to the final or winning. We hit an obstacle and we'll get over it."
Photo: Switzerland's Gelson Fernandes, right, celebrates with his teammate Tranquillo Barnetta after scoring during the World Cup group H soccer match between Spain and Switzerland at the stadium in Durban, South Africa, Wednesday, June 16, 2010.