Sami Gemayel: 'Jumblatt's behavior is not normal'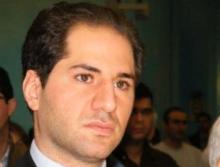 Phalange MP Sami Gemayel told Al-Manar television on Tuesday that he is concerned about Democratic Gathering bloc leader MP Walid Jumblatt's proposal to parliament to grant Palestinian refugees in Lebanon civil rights.
He criticized the PSP leader, saying that Jumblatt's behavior "is not normal."
The parliament voted during an extraordinary session Tuesday on Jumblatt's proposal and Speaker Nabih Berri transferred the draft law to the Justice and Administration parliamentary Commission for revision.
Hezbollah and Amal MPs voted in favor of the bill, while the Phalange party , Lebanese Forces and Change and Reform Mps voted against it.
Jumblatt who was unhappy with defraying the issue of the Palestinian rights to a committee and said : "This means nothing will be accomplished" . He attacked the Lebanese rightists for their stand during the discussion and said "the rightists are dumb and the Lebanese rightists are the dumbest "
Jumblatt in his proposal called for granting Palestinians living in Lebanon's refugee camps the right to work and own property.