Kremlin: U.N. sanctions prevent Russia from delivering S-300 to Iran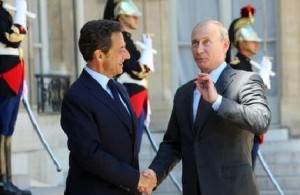 The new U.N. sanctions prevent Russia from delivering S-300 air-defense missiles to Iran, a Kremlin official said Friday, in a reversal of the position announced by Russia's Foreign Ministry the day before.
The Kremlin statement was sure to please Israel and the United States, which have long urged Russia not to supply the powerful missile system. Russia signed a deal to sell the missiles in 2007, but has delayed their delivery.
The U.N. Security Council resolution passed Wednesday bans Iran from developing ballistic missiles capable of delivering nuclear weapons, investing in nuclear-related activities and buying certain types of heavy weapons.
The Kremlin official, speaking on condition of anonymity, said the S-300 falls under these sanctions.
The U.N. resolution does not specifically prohibit Russia from supplying the S-300, the U.S. State Department spokesman said. "However, for the first time, the resolution calls for states to exercise vigilance and restraint in the sale or transfer of all other arms and related materiel," spokesman P.J. Crowley told reporters in Washington. "We appreciate Russia's restraint in the transfer of the S-300 missile system to Iran."
This distinction may help explain the initial confusion.
On Thursday, Foreign Ministry spokesman Andrei Nesterenko said the U.N. resolution did not apply to air-defense systems, with the exception of shoulder-fired missiles.
The head of the Federal Service for Military-Technical Cooperation, which oversees arms trade, also said Thursday that the sanctions would not affect the S-300 deal. But on Friday the agency said an analysis of the resolution indicated the missile system was banned under the new sanctions.
In Paris, a French presidential aide said that Russia's Prime Minister Vladimir Putin, in talks with French President Nicolas Sarkozy on Friday, said that Russia had decided to "freeze the delivery of the S-300 missiles."
Putin also said supporting the Iran sanctions was a decision that "wasn't exactly easy," according to the presidential aide, who spoke on condition of anonymity in keeping with Sarkozy's office policy.
Russian President Dmitry Medvedev will issue a decree specifying which types of weapons cannot now be sold to Iran, Russia's Foreign Minister Sergey Lavrov said in Moscow.
Russia in the past has sold other air-defense missiles, aircraft and other weapons to Iran.
Photo: Russia's Prime Minister Vladimir Putin R) , in talks with French President Nicolas Sarkozy on Friday, said that Russia had decided to "freeze the delivery (to Iran)  of the S-300 missiles  ."
AP