Iran spy ring reports set off Gulf Arab alarm bells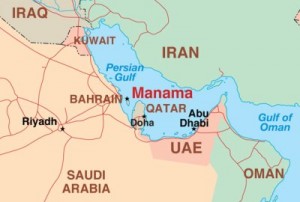 Gulf Arab states, hosts to US and Western military bases, fear the discovery of a purported Iranian spy ring in Kuwait will make it harder to stay out of the fray of any conflict over Iran's nuclear program.
The ensuing tensions following the Kuwaiti arrests, details of which remain scant, may further polarize Gulf States against non-Arab rival Tehran as a global row over Iran's nuclear ambitions heats up.
Clampdown
News of the round-up, if proven, could also prompt security clampdowns by Gulf states aimed at ferreting out any more potential spies governments fear may be scouring their land for retaliatory targets in the event of a US strike on Iran.
"What they are searching for is not being caught in the crossfire of a potential military strike on Iran," said Theodore Karasik of the Institute for Near East and Gulf Military Analysis.
"When you have the presence of spy rings and this drifting more towards the western position, it makes the situation a little more dangerous," he said.
Tehran denies running spies in Kuwait, whose ties with the Islamic Republic have improved after turning poisonous during the 1980-88 Iran-Iraq war over Kuwait's backing of Iraq.
The West suspects Iran, just across the water from the Western-allied Gulf states, is seeking nuclear weapons capability. The United Nations imposed this week new sanctions against Iran, which says it wants only to generate electricity.
But if diplomacy fails, neither the US nor Israel, the only assumed nuclear power in the Middle East, have ruled out military action. That spells danger for oil-exporting Gulf States, as Iran has threatened to hit back at Israel and US bases in the Gulf if attacked.
The US has already grown its land- and sea-based missile defense systems in several Gulf countries to counter what it sees as Iran's growing missile threat.
"These (Gulf Arab) countries now are assuming that definitely the (Iranian) revolutionary guard is already there in their country," Mustafa Alani of the Gulf Research Centre said.
"If it (the Kuwait accusation) is proven … I think we are going to witness a major close look by intelligence in each country," he added.
The US has myriad air and naval installations in Gulf Arab states, some of which are little more than 200 kilometers from Iran's coast.
The US Central Command keeps its forward headquarters in Qatar, and Bahrain hosts the US Navy's Kuwait hosts Camp Arifjan, a vast US logistics base in the desert south of the capital that serves as a staging ground for US forces deploying in Iraq.
Kuwaiti media said in May authorities had detained a number of people – Kuwaitis and foreigners – suspected of spying for Iran, and the independent al-Qabas daily said they were accused of gathering information on military sites in Kuwait.