Iranian president calls UN resolution 'worthless paper'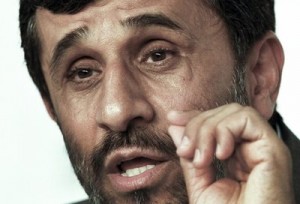 Iranian President Mahmoud Ahmadinejad on Friday dismissed new sanctions aimed at punishing his country for failing to halt part of its nuclear program, calling the latest U.N. resolution "a worthless paper."
During a visit to China's financial hub of Shanghai, Ahmadinejad also accused the United States of hypocrisy for leading the drive to censure Iran and accused President Barack Obama of pursuing the same "bullying" tactics of his predecessor, George W. Bush.
The resolution adopted by the U.N. Security Council on Wednesday "is a piece of paper. A worthless paper," Ahmadinejad said at a news conference while visiting the World Expo in Shanghai.
Rather than impeding Iran's development, the resolution "may have an impact on our country by expediting the pace of our development," he said.
The new sanctions seek to punish Iran for rejecting proposals to halt uranium enrichment and take its nuclear fuel from abroad. The West and its allies fear Iran is developing nuclear weapons, though Iran says it is seeking nuclear power only for peaceful energy and medical research purposes.
Despite hopes by China that the sanctions would give a boost to renewed negotiations, Ahmadinejad said that could only happen in a "friendly atmosphere."
"Having dialogue under a hostile atmosphere has no meaning," Ahmadinejad said.
His visit comes two days after host China yielded to international pressure to back a fourth round of nuclear sanctions targeting Iran's powerful Revolutionary Guard, ballistic missiles and nuclear-related investments in a bid to compel Tehran to cooperate with international inspectors.
Ahmadinejad was not scheduled to meet Chinese leaders while in China. He also skipped Thursday's summit in Uzbekistan of the Shanghai Cooperation Organization, which was attended by Chinese President Hu Jintao. Iran is an observer in that group.
As a permanent member of the Security Council and key Iranian ally, China could have exercised its veto power to block the sanctions. But it reversed its earlier opposition out of frustration with Tehran's intransigence and a desire to avoid becoming isolated over the issue, analysts said.
Asked about China's about-face, Ahmadinejad deflected blame onto Washington.
"We have very good relations with China and we have no reason to weaken our relations with China. I said the problem is the United States," he said, adding that unnamed countries on the Security Council had been subject to "pressure and intimidation."
China's Foreign Ministry said Thursday its support for fresh sanctions should not block efforts to find a diplomatic solution, and called for renewed attempts to bring Iran back to the negotiating table.
Details of negotiations with China over the sanctions are unknown. But Beijing appeared to be satisfied that the sanctions would not harm its economic ties with Iran, with whom bilateral trade reached at least $36.5 billion last year. Iran meets 11 percent of China's energy needs and Chinese companies have major investments in Iranian energy extraction projects and the construction of roads, bridges and power plants.
It wasn't clear what effect the vote would have on relations between Tehran and Beijing. Last month, Ahmadinejad rebuked Russia, which also backed sanctions, warning its leaders "to correct themselves, and not let the Iranian nation consider them among its enemies."
Iranian lawmakers plan to review Iran's relations with the U.N. nuclear watchdog group, the International Atomic Energy Agency, although Ahmadinejad appeared to rule out the option of banning U.N. inspectors from Iran's nuclear facilities.
"For what reason should they leave Iran? There is no reason to leave Iran. We have no problem with our peaceful nuclear program," he said.
Ahmadinejad, who has repeatedly called for Israel's destruction and denied the Holocaust, also lashed out at the West for supporting the Jewish state.
"They are not against nuclear bombs because in the Middle East they have equipped the Zionist regime with nuclear weapons and tolerate all the abuses committed by the Zionist regime," he said. AP