Pilots' syndicate and MEA reach agreement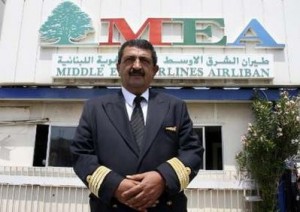 The Pilots' syndicate and the Middle East Airlines (MEA) administration reached an agreement over the pilots' salary demands, National News Agency (NNA) reported on Tuesday
NNA said that Public Works and Transportation Minister Ghazi Aridi will announce the agreement during a press conference on Wednesday.
The MEA pilots protested last month the company's decision to hire foreign pilots.
MEA Staff members requested higher starting salaries, more days off and other benefits they lost when MEA underwent massive restructuring between 1998 and 2002.
Picture: Mahmoud Houmany , head of the Lebanese Pilots' Association .