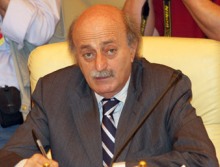 Walid Jumblatt warned against giving Israel any excuses to wage war with Lebanon in an interview on LBC TV on Thursday. Addressing Hezbollah: "Let us keep our nerves very cool on how to use the arms. Arms should be used in self-defense."
Hezbollah's arms are an "excellent [tool] for defending Lebanon" against a possible Israeli attack, but they are not sufficient, he added.
Jumblatt also hailed Turkish PM Recep Tayyip Erdogan for his condemnation of the Jewish state in light of the Freedom Flotilla Massacre, comparing the effectiveness of Turkey's global backing to that of Iran's isolated approach. Jumblatt criticized Iranian President Mahmoud Ahmadinejad for declaring recently that Iran's arms would destroy Israel.
"Such a statement is useless," he said.
"Erdogan's rhetoric nowadays is much stronger than Ahmadinejad's rhetoric," Jumblatt told his interviewer.
Jumblatt also said he was afraid "Israel would use part of the Druze community, because it survives through taking advantage of minorities."
Israel "took advantage of part of the Maronites and led them to suicide," Jumblatt added.
Jumblatt stressed the importance of a good relation with Syria at the security and political levels.
"Egypt plays a key role in the region at the political level, but Arabs must support it financially," he added.
The Druze leader said he was worried about "a possible segregation of Iraq, the thing that would affect Iran, Turkey and Syria."
Addressing the Lebanese-Syrian relations, Jumblatt said: "We respect the basic Syrian interests in Lebanon, but we have our sovereignty and independence."
He noted that the return to warmer U.S.-Syrian relations "helps Lebanon."
As to the Special Tribunal for Lebanon and the possible repercussions of issuing indictments that would connect Hezbollah to the assassination of ex-PM Rafik Hariri, Jumblat said: "We want justice coupled with stability."
"The sanctions are forthcoming. Prime Minister [Saad] Hariri heard about them [during his US trip], and we heard that they are a priority for [US President Barack] Obama," Jumblatt said.
He added that Lebanon, which is one of the 15 Security Council members, must not vote against the UN draft resolution on the Iran sanctions.
"We must abstain from the voting, because we cannot bear [the consequences] of rejecting the resolution," Jumblatt said, adding, "We are neither Turkey, nor Iran. Abstention is enough."
Naharnet
This error message is only visible to WordPress admins
Error: No connected account.
Please go to the Instagram Feed settings page to connect an account.