Two brothers killed by rival Christian faction member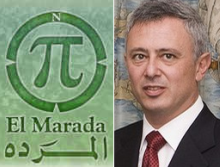 Two brothers, Tony and Naif Saleh, were shot dead Friday at the hands of Hanna al-Barsaoui in the northern town of Dahr al-Ain in the al-Koura district.
The victims were members of Suleiman Franjieh's Marada Movement and the alleged killer is a member of rival Christian political party Lebanese Forces, led by Samir Geagea.
"The incident was sparked by a dispute that took place two days ago between the sons of al-Barsaoui on one side and Tony Saleh on the other and after the lawsuits filed over the issue were not dropped as previously agreed," the National News Agency reported.
Later Friday, a statement issued by the Marada Movement said: "The two Marada Movement members Tony and Naif Saleh were martyred this evening at the hands of Lebanese Forces official Hanna al-Barsaoui."
According to the National News Agency, Hanna al-Barsaoui had a quarrel with Tony Saleh on Wednesday over a lawsuit between the two.
The Lebanese army deployed to the area and launched an investigation into the incident.
Naharnet & Now Lebanon