Burning tires block Beirut Airport in Hezbollah stronghold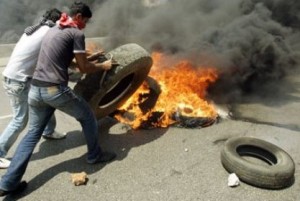 Over a hundred Dahiyeh residents used burning tires to block a public road leading to Beirut's Rafik Hariri International Airport for around two hours on Friday in southern suburb of the capital, a Hezbollah stronghold.
The angry mob of 150 resorted to blocking the main roundabout of the Airport Highway with burning tires, reminiscent of the start of Hezbollah's Beirut siege in May 2008.
Witnesses said that some protesters smashed the glass of a car that was trying to go through the blocked road before they were fended off by the security forces.
According to initial reports, no arrests were made.
The Lebanese Army and the Internal Security Forces managed to open the road and disperse the protesters, and extinguish the tires that remained burning for more than two hours. The protesters then proceeded to block the nearby Bir Hasan intersection with burning tires shortly thereafter.
Protesters were angry over the government's lack of a solution to the recurring power outages.
Naharnet, Ya Libnan