Jumblatt: Trip to Syria "not the first nor the last"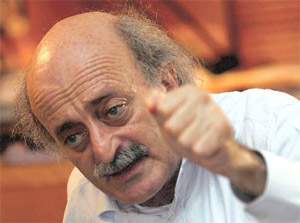 MP Walid Jumblatt expressed satisfaction with his visit to Damascus, claiming it was both political and family in nature. The Druze leader said he met with Syrian President Bashar Assad's Associate Vice President Maj. Gen. Mohammed Nassif.
Jumblatt said in his visit to Damascus on Thursday was "not the first nor the last."
Jumblatt said in remarks published Friday by the daily As-Safir that his visit comes in the "context of coordination, consultation and ongoing contact regarding the situation in Lebanon and in Iraq as well as the prospects for a settlement in the Arab-Israeli conflict, the risk of what is going on in the Arab world in terms of division and the need to face up to these political and intellectual trends by maximum degrees of awareness and commitment to the fundamental principles."
Jumblatt arrived in Damascus at 4:30pm on Thursday on an unannounced visit. According to New TV, the leader of the Progressive Socialist Party arrived as the head of Intelligence of Lebanon's Internal Security Forces, Col. Wissam Al-Hasan, left the Syrian capital briefly thereafter. Al-Hasan is closely tied politically to Prime Minister Saad Hariri.
He said he got in touch with Syrian Foreign Minister Walid Muallem and that the two men agreed to meet during Jumblatt's next Damascus visit.
Naharnet