Middle Eastern students excel in engineering & science competition
The Middle East region had good representation at the 2010 Intel International Science and Engineering Fair (ISEF), which saw Arab students win seven awards. Students from Egypt, Lebanon and Morocco participated but it was eleven talented students from Saudi Arabia, Palestine and Jordan that won five IDEF Grand Awards and two Special Awards.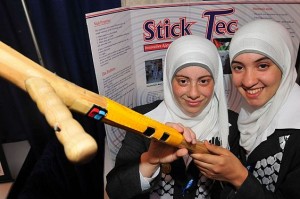 More than 1,600 talented young students from 59 countries took part in the pre-college science competition in California earlier this month, which offered over $4 million in prizes.
Palestine participated for the first time with Nour Alarada and Asil Shaar winning a Special Team award for their 'Electronic Stick for the Blind'.
Saudi Arabia did well with Saud Alharbi, Humoud Almutairi, Rakan Almutairi receiving fourth place in the Grand Award, Environmental Science category. Abdulaziz AlGhunaim took second place in the Behavioural and Social Science category for 'Game Power – A Game Environment for Measuring ICT-enhanced Skills of Young Students', while Ahmed Alhomaid, Abdualaziz Almugairin and Fahad Al Musharraf also took home a Grand accolade in the Cellular Molecular biology section for their study into 'Radiosensivity and Carrier's Frequency of Ataxia Talengectasia-like Disorder (ATLD)'.
Ali Alodat from Jordan was awarded fourth place and $500 in the Behavioral and Social Sciences category for an experimental study which looked at the impact of serotonin hormones in eight to nine year old students with learning disabilities. Ghayda Al Hawamdeh also came fourth in the Microbiology category receiving $500.
"The dedication and enthusiasm shown by students from our region is truly inspirational. The Arab World is home to highly talented individuals who have demonstrated that they are able to compete at a global level in the field of science and technology," said Ferruh Gurtas, corporate affairs director for Middle East, Turkey and Africa region.
The ISEF was won by 16 year old Amy Cindy Chyao when she was awarded the Gordon E. Moore Award and a $75,000 college scholarship for her promising new approach in delivering photodynamic therapy to cancer patients. Runners up Kevin Michael Ellisand Yale Wang Fan were honored with Intel Foundation Young Scientist Awards and $50,000 college scholarships. Ellis designed an automatic parallelisation tool capable of rewriting computer programs to run on parallel microprocessors, while Wang Fan demonstrated the potential power of quantum computing in solving 'NP-complete' problems.
In addition to the three top prizes, the Intel Foundation awarded $8,000 to each of nineteen 'Best of Category' winners, none of which were students from the Arab world.