Hariri to address U.N. and meet Miss USA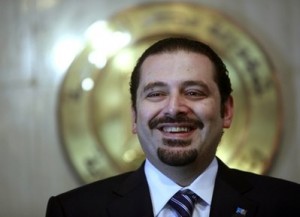 Prime Minister Saad Hariri will travel to New York on Wednesday to deliver Lebanon's speech before the U.N. Security Council and hold talks with U.N. Secretary-General Ban Ki-moon concerning the overall issues related to Lebanon.
Lebanon currently heads the rotating chair of the U.N. Security Council.
Ban has said that he would discuss with Hariri in detail the alleged transfer of arms to Hizbullah.
Hariri was also expected to meet Miss USA Rima Fakih, the 24-year-old Lebanese from Michigan.
Fakih was crowned Miss USA May 16 after winning the pageant at the Planet Hollywood Resort & Casino on the Las Vegas Strip.
Hariri met in Washington Monday with U.S. President Barack Obama and hailed his efforts with the peace process in the region.
On Tuesday, the prime minister met with top U.S. officials, including Deputy Secretary of State James Steinberg, Foreign Relations Committee at the U.S. Congress Senator John Kerry, Speaker of the House of Representatives Nancy Pelosi as well as former Secretary of State Madeleine Albright and Congressman Gary Ackerman.
Hariri was the guest of honor Tuesday evening at the Rafik Hariri Building in Georgetown University.
Members of Hariri's delegation and the diplomatic community as well as Ambassador of Lebanon Antoine Chedid, the Archbishop of Canterbury Dr. Rowan Williams and members of Congress and the U.S. Administration attended Hariri's lecture.
"Lebanon taught me a lot and it continues to teach me that I have to be just like it," Hariri told his listeners.
"I have to believe in unity, I have to be resilient, I have to adapt to the changes around me, I have to believe in the message that Lebanon brings to the region and to the world — the message of tolerance, and patience, and hope, and peaceful coexistence and moderation at a time where extremism is rising, and tolerance and patience are fading away," he added.