Iran submits fuel swap offer to IAEA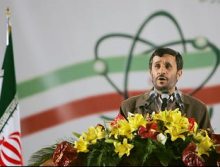 Seeking to evade new U.N. sanctions, Iran on Monday formally submitted its plan to swap some of its enriched uranium for reactor fuel and said the onus was on world powers to defuse tensions by accepting the deal.
The development was unlikely to deter the U.S., Russia, China, Britain and France — the five permanent U.N. Security Council members — which last week agreed on a draft outlining the fourth set of sanctions against Tehran for refusing to give up uranium enrichment.
But Turkey and Brazil support Tehran. They are co-sponsors of the fuel swap deal, and Iranian officials told The Associated Press that diplomats from both countries joined with an Iranian representative in handing the proposal on Monday to Yukiya Amano, the head of the International Atomic Energy Agency.
Their presence at the handover "is a clear indication that the brotherly, friendly countries of Turkey and Brazil … are supportive all the way through," Ali Asghar Soltanieh, Iran's chief IAEA delegate, told the AP.
"We expect others to seize this unique opportunity," Soltanieh said in a telephone call from the sidelines of a U.N. nonproliferation conference in New York. He was alluding to the U.S., France and Russia — Tehran's direct interlocutors in original fuel swap negotiations seven months ago — and more broadly to the U.N. Security Council.
The backing of Brazil and Turkey is important in blunting a sanctions push because they are elected Security Council members that carry weight among some of the eight other countries chosen for temporary council memberships. They have signaled they will vote against new sanctions, which must be approved by 10 of the 15 council members.
Brazil and Turkey also are important for Washington.
Brazil is South America's largest nation and has a dominant role on the continent, while Turkey, a key NATO ally and a traditional regional U.S. mainstay, has moved to develop an increasingly independent voice.
Beyond seeking to flex their muscles, their support of Tehran is a reflection of their own nuclear priorities. Brazil has a sophisticated nuclear program that includes uranium enrichment, while diplomats say that Turkey has implicitly expressed interest in domestic enrichment as part of any future large-scale civilian nuclear program.
The deal would commit Iran to ship 1,200 kilograms (2,640 pounds) of low-enriched uranium to Turkey, where it would be stored. In exchange, Iran would receive, within one year, higher-enriched fuel rods to be used in a U.S.-built medical research reactor.
The pact mirrors a swap proposed in October in which Iran would have shipped the same amount of low-enriched uranium to Russia in exchange for higher-enriched material for its research reactor. That deal fell apart over Tehran's insistence that the swap take place on Iranian soil.
On its face, the latest plan seems a significant concession, with Iran agreeing to ship its material to be stored in Turkey and to wait up to a year for higher-enriched uranium from France and Russia. However, Iran is believed to have much more nuclear material stockpiled now.
In October, swapping 1,200 kilograms (2,640 pounds) would have left Iran with much less than the 1,000 kilograms (2,200 pounds) of material needed to produce enough weapons-grade uranium for a bomb. Since then, Iran has continued to churn out low-enriched material and started enriching uranium to an even higher level — from 3.5 percent to near 20 percent.
While Tehran insists it has no nuclear arms ambitions, it could produce weapons grade uranium much more quickly from the 20 percent level.
In March, the IAEA said Iran's stockpile stood at around 2,100 kilograms (4,600 pounds). It has likely grown to an estimated 2,300 kilograms — about 5,000 pounds, or more than twice the amount needed to produce enough material for a bomb, according to David Albright of the Washington-based Institute for Science and International Security, which has tracked Iran for signs of covert proliferation.
From the West's point of view, that destroys much of the incentive for an agreement — and Iran's decision to continue its program to enrich to near 20 percent poses an even greater hurdle.
Soltanieh refused a direct answer when asked if Iran would continue higher enrichment — a sure red line for the West. But he indicated Tehran was holding to that plan, saying enrichment was his country's "inalienable right … that has nothing to do" with the fuel swap offer. AP