Hariri to meet Obama on Monday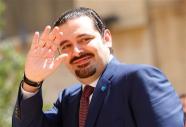 Lebanon Prime Minister Saad Hariri headed to Washington on Sunday to meet with President Barack Obama on Monday.
Hariri's first official visit as a PM to the US takes place at a time of increased tension in the Middle East , a drill by Israel near the Lebanese border, efforts to restart the indirect Israeli-Palestinian peace talks and pressure to impose new sanctions against Iran .
Hariri was on the move during the past week. He started last Monday with a visit to Saudi Arabia where met with the Saudi Monarch and several other key officials . On Tuesday he met with the visiting Kuwait Emir and following his meeting he headed to Damascus Syria where he met with Syrian president Bashar al Assad. On Wednesday he visited Jordan and met with King Abdullah. Towards the end of the week he visited Cairo and met with President Hosni Mubarak from there he headed to Ankara and met with his Turkish counterpart.
White House spokesman Robert Gibbs said last Friday that the two leaders would discuss a "broad range of mutual goals in support of Lebanon's sovereignty and independence, regional peace and security."
President Obama will likely raise the US concerns about Syria's arming of Hezbollah in Lebanon when he meets Hariri, a US official said on Friday.
"We obviously have grave concerns about the transfer of any missile capability to Hezbollah through Lebanon from Syria," a senior Obama administration official told Reuters, saying the issue would likely be raised in Monday's talks.
On the other hand Lebanon and Syria have been increasingly concerned about a possible attack by Israel after its president, Shimon Peres, accused Syria last April of supplying Hezbollah with long-range Scud missiles capable of hitting Israel. Damascus has denied the charge and accused Israel of fomenting war.
President Assad who met the visiting French FM Beranrd Kouchner was very critical of the Israeli drill and pleaded with the West to restrain Jewish state "in light of its dangerous tendencies and attempts to spark wars and conflicts, " he said.
"It's unthinkable that the West keeps silence in light of the Israeli aggression," Assad said.
Assad accused Israel of trying to ignite a war
Obama and Hariri are expected to discuss US-led international efforts to isolate Iran over its disputed nuclear program. Lebanon, a non-permanent member of the security council is holding the rotating presidency of the UN Security Council until May 31.
Hariri is taking with him a shopping list . He reportedly intends to ask the US administration for aid to the Lebanese Army, as well as the Lebanese economy. The US has supplied the Lebanese army and internal security forces with some equipment and training since 2005 but has been very reluctant in supplying any arms that could be used in self defense against Israel. Hariri , according to observers intends to ask . for specific arms that could deter Israeli continued violations of Lebanese airspace .
Prior to departing to Washington On Sunday Hariri met with French Foreign Minister Bernard Kouchner . Kouchner , who is touring the region stopped in Damascus on his way to Lebanon and plans to visit Egypt and Turkey before heading back to Paris . Kouchner urged Lebanon and Syria to respect the United Nations Security Council Resolution 1701, which put an end to the 2006 war with Israel.
The recent decision by president Obama to offer Israel $205 million in support of production of its "Iron Dome' rocket defense system was not well received in Lebanon and the region. The region had high hopes that Obama will bring in some changes to the region by focusing more on peace, specially since Israel posses one of the strongest army in the world.
In Washington the Lebanese embassy has prepared a huge reception for the visiting premier and invited the Lebanese community to meet with him .
Washington for Hariri is a second home . He graduated from the McDonough School of Business at Georgetown University, with a major in business administration, in 1992 .