Baroud: Security forces are ready to tackle any situation in Sidon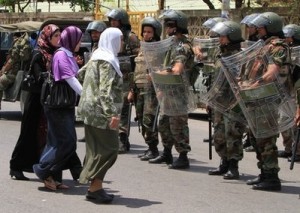 Interior Minister Ziad Baroud played down election tension in Sidon and said security forces are ready to tackle any situation.
Earlier in the day, media reported a clash between Popular Nasserite Movement leader Osama Saad's bodyguard and an Internal Security Forces member at a Saida polling station.
At a press conference Sunday, Baroud said that it was a small confrontation and it had been contained.
The interior minister said elections could be stopped as a last resort, but said he was hopeful that would not happen because the Lebanese army and security forces are capable of maintaining stability.
Competition should be part of the elections, he added.
Baroud said his ministry would deal with all candidates equally, adding that some complaints have already been registered and he is working on getting them resolved.
Clashes reportedly broke out between Saad supporters and Future Movement members in front of Sidon's Nazih al-Bizri High School. The army intervened and arrested dozens, according to LBC TV .
There were reports that the Lebanese army Commander General Jean Kahwaji went to Sidon as a result of the clashes , but this was denied by the army command .
Around 3 Pm LBC TV reported that based on Interior Ministry reports the voter turnout reached 36 percent in Sidon.
Photo: Lebanese women, walk in front Lebanese army troops outside a polling station during the municipal elections in the southern port city of Sidon, Lebanon, on Sunday, May 23, 2010.