Hezbollah shows off arms at a new museum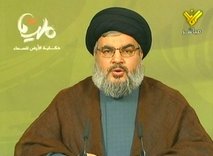 The Hezbollah militia on Friday inaugurated a " museum " displaying its own heavy weapons and those left by Israel, to mark the 10th anniversary of Israel's pullout from south Lebanon.
The inauguration of the so-called Jihadist (armed struggle) museum in Mlita, east of the southern port city of Sidon, coincided with preparations for the launch of Israeli defense exercises dubbed "Turning Point 4," planned for Sunday.
"Armies that emerge victorious from wars display their exploits in museums," Hezbollah chief Sayyed Hassan Nasrallah said in an inaugural speech broadcast live at the complex on a giant television screen. He was not present in person.
Nasrallah added: "We launch together the jihadist tourist site, which we hope will be a correct step for preserving the history of our resistance."
This site "is a modest initiative compared… to the sacrifices and historic victories that have been gained," Nasrallah said of the 2006 war , following which he declared victory.
Over 1200 Lebanese were killed in the 2006 war mostly civilians and about 160 Israelis were killed mostly military. The war devastated the Lebanese infrastructure and resulted in the destruction of over 120, 000 housing units and the displacement of 1 million Lebanese mainly Shiites from the south.
The museum will open to the public starting May 25, the anniversary of the Israeli pullout, which is this year being marked as a national holiday.
Dozens of anti-tank and Katyusha rockets, Iran-built "Raad 1" missiles, mortars and rocket launchers are on display in the complex that encompasses a mountain cave, wooded grounds and a newly built gallery.
Israeli Merkava tanks are also on display.
The museum also showed caves where Hezbollah guerrillas used to hide and monitor Israeli troop movements inside the Lebanese territories during the fighting.
The museum is the first complex of its kind in the world, Hezbollah said in a statement.