Hariri travels to Jordan to meeet with King Abdullah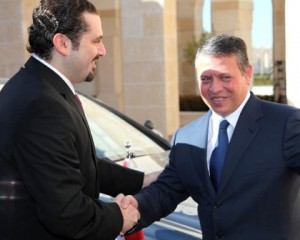 Lebanon's Prime Minister Saad Hariri met with Jordan's King Abdullah II on Friday in Red Sea port city of Aqaba as part of his Middle East tour ahead his trip to Washington on Monday for talks with U.S. President Barack Obama.
They reportedly discussed bilateral relations and regional developments.
Hariri heads to Cairo and Ankara on Saturday for talks with Egyptian President Hosni Mubarak and Turkish Prime Minister Recep Tayyip Erdogan.
Hariri also traveled to Saudi Arabia last Monday and to Syria last Tuesday as part of his regional tour