Strike awaits Greek PM as he heads back after 1 day visit to Lebanon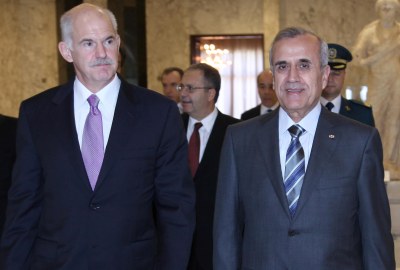 Greek Prime Minister George Papandreou arrived Wednesday evening in Beirut and met Thursday with President Michel Suleiman and his Lebanese counterpart Saad Hariri. A strike awaited him as he headed back after 1 day visit to Lebanon.
According to local reports the talks focused on the latest regional developments as well as bilateral relations and ways of developing and enhancing them.
Papandreou arrived at the Grand Serail at 9:15 am, where he was met by Hariri, Foreign Minister Ali al-Shami, Information Minister Tareq Mitri as well as other political and diplomatic officials.
The Greek premier took part in the opening session of the Arab Economic Forum before heading to Baabda Palace for a meeting with President Suleiman.
After midday, Papandreou and Hariri held a second round of talks at the Grand Serail.
Hariri then hosted a lunch in honor of the Greek prime minister after they hold a joint press conference.
Papandreou said Greece supports Lebanon "in word and deed."
He praised the "new era of political stability" in Lebanon "which helped restore its position in the international arena."
Papandreou vowed that Greece, together with the European Union, will push forward with a new initiative aimed at resumption of indirect Israel-Palestinian talks.
"We will spare no effort with our partners in the European Union to improve the atmosphere surrounding the new initiative aimed at launching indirect Israel-Palestinian negotiations," Papandreou said in an interview published Thursday by the daily An-Nahar.
He stressed the need "not to allow a setback to disrupt the progress that had been achieved" in Middle East peace talks.
Strike
Thousands of Greeks marched through Athens today in the fourth general strike of the year to protest planned pension cuts and other austerity measures the government pledged to secure emergency European financing to avoid default.
Police estimated that between 15,000 and 20,000 protesters marched to parliament in central Athens, some waving banners that read, "Hands off our pensions!" The strike was the first since three people were killed on May 5 after demonstrators set fire to a bank in the capital. About 1,500 police officers were deployed, with officers stopping protesters around Exarchia, a stronghold of the anarchists police blame for the May 5 mayhem.
"It is incomprehensible, outrageous, unacceptable to cut pensions of 600 euros, 700 euros," spokesman Stathis Anestis of the General Confederation of Labor, or GSEE, told protesters. "At the same time, those who owe the pension funds and have looted the pension funds are immune; no one has gone to jail."
Greece agreed this month to cut wages and pensions, raise sales, fuel and alcohol taxes and overhaul the state-run pension system in return for 110 billion euros ($136 billion) in emergency loans from the European Union and the International Monetary Fund. Prime Minister George Papandreou has argued that the measures, to tame a budget deficit of almost 14 percent of economic output, are needed to prevent the country from defaulting on its debts after borrowing costs soared.
Bond Redemption
Greece yesterday paid 8.5 billion euros in bond redemptions after receiving 20 billion euros from euro-region allies and the IMF, the first tranche of the three-year aid package. Greece's ASE Index, down 28 percent this year, fell 2.9 percent.
The walkout shut most public transport and kept ferries docked at ports. Three cruise ships were unable to dock at the country's biggest port, Piraeus, due to the dockworkers' and tugboat pilots' strike. Civil servants, local government workers, employees at customs posts, pension funds and school teachers have joined today's protest.
GSEE said participation was 100 percent at shipyards, refineries and docks, 90 percent at construction sites and 70 percent in industry, banks, and state-run companies such as Public Power Corp SA.
Most flights aren't affected as air-traffic controllers didn't join the walkout. Some domestic flights were canceled because of a strike by telecommunications workers, Olympic Airways said on its website.
Austerity Measures
The protest earlier this month grounded flights, disrupted transport and shut down public services across the country.
The government's measures aim to merge the existing dozen pension funds into three by 2018, linking contributions and benefits and applying uniform rules. The normal retirement age will be set at 65 and increase with life expectancy, while benefits will be indexed to prices.
The changes will also restrict early retirement, a practice that has weighed on public finances. The minimum contribution period will be raised to 40 years from 37 years by 2015 and pensions will be awarded on the basis of earnings over a person's entire working life, instead of the last five years of employment.
Greece runs one of the most generous pension systems in Europe, according to the Organization for Economic Cooperation and Development. Some retirees earn more than when they worked.
Without an overhaul, Greece will spend 25 percent of gross domestic product on pension costs by 2050, according to the government, which hasn't yet said when the law will be brought to the chamber for a vote.
Union opposition in 2001 led the government of then-Prime Minister Costas Simitis to water down proposals such as raising the retirement age to 65 for all workers. BW