Sfeir: Iran, Syria interfering in Lebanon's affairs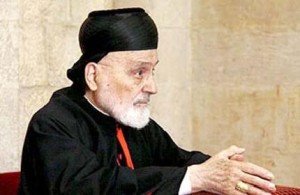 Lebanon's Maronite Patriarch Nasrallah Boutros Sfeir said Thursday that "Syria and Iran were interfering in Lebanon's affairs" but "we are trying as much as possible to solve this problem."
"Eventually, we seek to solve this problem as much as we can," Sfeir said.
Sfeir made his remark to a French tourism delegation that visited him in Bkirki.
Reiterating that the conditions in Lebanon are "very difficult," he said the country's different confessions are seeking to coexist.
"There are 17 confessions in Lebanon that are seeking to coexist with love, peace and tranquility despite all the problems coming from the outside," the prelate said in reference to Damascus and Tehran.
Sfeir urged all the Lebanese to join ranks to "save their nation."
Yesterday March 14 forces general-secretariat coordinator Fares Souaid considered on Wednesday Syrian President Bashar al-Assad's recent statements to As Safir newspaper as "interesting and worrying" in regards to Lebanese-Syrian relations. He told the Central News Agency that it is interesting that Assad would make his statements to a Lebanese newspaper and then have them published on its front page.
What's worrying, continued Souaid, was Assad's implication that Lebanon has once again been placed in Syria's care with Saudi Arabia's blessing and general Arab and international approval, therefore, sending a message to the Lebanese people that Syria is restoring its hegemony over Lebanon.