Dearborn's Miss Michigan wins Miss USA title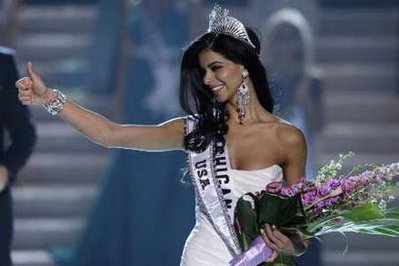 Arab Americans across metro Detroit cheered as Rima Fakih of Dearborn was crowned Miss USA tonight in Las Vegas.
"This is unbelievable," said Rami Haddad, 26 of Livonia, one of Fakih's biggest supporters. "It's a dream come true. I can't express my feelings."
Fakih, a Lebanese American, is believed to be the first Arab American and Muslim to become Miss USA.
She is also the first Michigander to be Miss USA since 1993.
"This is great news for Michigan," said Haddad. "We have beauty here. We have talent."
Haddad said Fakih's win can help motivate Michiganders to dream big.
"This will motivate us," Haddad said. "She was so determined."
"This is historic," Imad Hamad, regional director of the American-Arab Anti-Discrimination Committee, said. "This shows the greatness of America, how everyone can have a chance to make it."
Supporters are gathering at La Pita in Dearborn for a party to celebrate Fakih's win.
The contestants took the stage tonight at Las Vegas' Planet Hollywood Resort & Casino to compete for the crown and the opportunity for a place in the Miss Universe pageant.
The 24-year-old brunette from Michigan beat out four blondes and 46 other women for the 2010 Miss USA title after nearly stumbling in her evening gown.
Fakih won the pageant Sunday night after swimsuit, evening gown and interview competitions.
During the competition, Fakih nearly fell while finishing her walk in a long, strapless gown because of the length of its train, but she recovered without a spill and went on to win.
In the interview, Fakih was asked whether she thought birth control should be paid for by health insurance, and she said she believed it should.
Miss Oklahoma USA Morgan Elizabeth Woolard was first runner-up after handling a question about Arizona's new immigration law. She said she supports it.
This year, the pageant was aired live on NBC. The television network owns the pageant in a joint venture with Donald Trump.
The competition, which is not affiliated with the Miss America pageant, was hosted by celebrity chef Curtis Stone and NBC correspondent Natalie Morales, with commentary by comedian Joan Rivers and her daughter Melissa.
The show also featured musical performances from country star Trace Adkins and Boys Like Girls.
The pageant began as a local bathing beauty competition sponsored by a swimwear company in Long Beach, California, in 1952. Its first winner was Jackie Loughery.
By Niraj Warikoo, Freep