Suleiman: Lebanon is the most beautiful, lets preserve it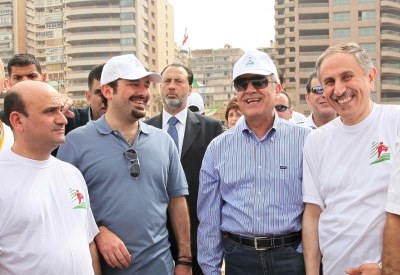 President Michel Suleiman and PM Saad Hariri participated in the launch of the Big Blue Campaign to clean the Lebanese coast. The campaign was launched at Ramlet al-Bayda and will include 72 locations along the coast.
He told the participants , "Lebanon is beautiful, its is the most beautiful'. He called for preserving it and added: ""let us not ruin this country
Iffat Edriss Chatila of the Cedar Protection Group, organizer of Operation Big Blue, said in 2007 that the summer 2006 war with Israel had not only degraded the environment but also had eroded people's attention to environmental issues.
"The war, the war, the war," she said. "We try to forget about the war but it does not forget about us. People are desperate at the moment so they don't care about the environment."
Update: President Suleiman highlighted the importance of youth in Lebanon, New TV reported.
The country counts on the youth to defend Lebanon, the president said.
"We count on the youth to resist against Israel," he added.
Suleiman said Lebanon's youth should have the right to vote in elections. He was referring to the draft law to amend Article 21 of the constitution – which deals with the legal voting age. In February, parliament failed to pass a draft law to lower the voting age from 21 to 18.
The president also said the Lebanese and Palestinians should stand in unity to mark Friday's 62nd anniversary of the Nakba, or "catastrophe" marking the 1948 creation of the state of Israel – when around 700, 000 Arabs fled or were expelled from their homes. He also called on the Palestinians to unite.