Sfeir calls for love and coexistence between Christians, Muslims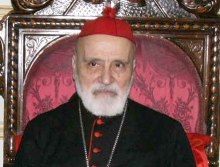 Maronite Patriarch Nasrallah Boutros Sfeir presided over a mass at Qbayyat's Saydit al-Ghassaleh church in the northern district of Akkar, according to media reports on Sunday.
The patriarch asked God to bless this nation and to unite us and to make Lebanon the country of love, peace and coexistence between the Christians the Muslims because " we were always together and will remain together"
Sfeir urged the Lebanese to renew their trust in each other, their nation, and the future of their country.
He also urged them to "unite their national will over the principles of solidarity, freedom, sovereignty, balanced development, and respect for human rights."
He hoped that "Akkar would remain an example of national unity and mutual respect within the values of justice and equality."
Earlier Sfeir laid the foundation stone at Akkar's first Maronite archbishop center in Qbayyat before holding the mass.
The are of the center is about 40,000 meters , it is highest hill in Qbeyyet and overlooks several villages in Akkar.
Sfeir was accompanied throughout his visits by Tripoli's Maronite Pastor, Archbishop Georges Abou Jawde, a number of religious officials and businessmen, and William Mjalli, the general manager of the Issam Fares Foundation.