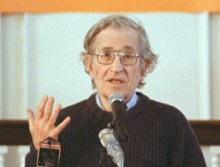 An Israeli official says academic and polemicist Noam Chomsky, who is a fierce critic of Israel, has been denied entry to the country.
Interior Ministry spokeswoman Sabine Haddad said Chomsky was turned away for "various reasons" but declined to elaborate. Chomsky was trying to cross the Allenby Bridge from Jordan. He was scheduled to deliver a lecture at Bir Zeit University in the West Bank.
Haddad said her ministry was looking into allowing him to enter only the West Bank.
Chomsky told Channel 10 TV from Jordan Sunday: "I've often spoken at Israeli universities."
Chomsky is one of Israel's harshest academic critics. After Israel's 2009 war in Gaza, he was quoted as saying, "supporters of Israel are in reality supporters of its moral degeneration."
Chomsky, who is of Jewish extraction told a TV station in Israel that a border guard said Chomsky had "written things that the Israeli government didn't like."
"I suggested [the interrogator try to] find any government in the world that likes anything I say," Chomsky said, as quoted at Ha'aretz.
According to the Jerusalem Post, "some sources say [Chomsky] was told unofficially there was an order from on high to turn him back because of his political views."
Chomsky, a renowned linguistics expert who teaches at MIT, has been an outspoken critic of Israeli foreign policy and US policy towards Israel for years. In 2006, during the Israel-Lebanon war, Chomsky called Israel's bombing of Beirut "a serious breach of international law" for which "there is no legal justification."
This error message is only visible to WordPress admins
Error: No connected account.
Please go to the Instagram Feed settings page to connect an account.