Hariri to meet Assad before Obama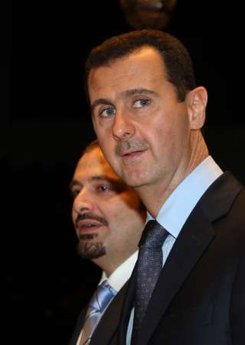 Lebanon Prime Minister Saad Hariri will visit Damascus on Tuesday for talks with Syrian President Bashar Assad following meetings with top Saudi officials in Riyadh the day before, pan-Arab daily al-Hayat reported.
Hariri's regional tour is aimed at holding consultations with influential Arab leaders ahead of his meeting with U.S. President Barack Obama on May 24.
An Nahar daily said that the premier would also visit Jordan, Egypt and Turkey. Kuwaiti Emir Sheikh Sabah al-Ahmed al-Sabah's official trip to Beirut on Tuesday would also be an opportunity to include the Gulf emirate in Hariri's consultations, the newspaper added.
As Safir daily said the date of Hariri's trip was set after a meeting held in Damascus between the director of the prime minister's office, Nader Hariri, and Syrian minister Buthaina Shaaban.
A source close to Hariri told the newspaper that the atmosphere is "very good."
Cabinet Minister Jean Oghassabian said that the prime minister's visit to the Syrian capital won't be part of meetings held between Lebanese experts and their counterparts in Damascus to review agreements signed between the two countries.
Furthermore, Hariri will head to Syria "without a ministerial delegation because the visit is aimed at holding consultations on Arab and regional issues before heading to Washington," al-Hayat reported.
Following talks with Obama on May 24, Hariri will head to New York to address the U.N. Security Council given that Lebanon is holding the rotating presidency of the Council for the month of May.