Markets, Euro Fall and Greece Jitters Return
After a nearly $1 trillion rescue package meant to end Europe's debt crisis once and for all, financial markets took a second look Friday and began to worry about how the plan would actually work and the implications of the drastic austerity measures for the fragile European economies.
The worries sent financial markets into a tailspin in Europe and the United States, only five days after the European Union and the International Monetary Fund hoped their $957 billion package would signal a "shock and awe" commitment to ending the continent's crisis.
The euro, which rallied sharply on Monday after the rescue package was announced, fell Friday below $1.24, an 18-month low.
"We're on the cusp of a crisis of confidence," said Derek Halpenny, currency economist at Bank of Tokyo-Mitsubishi UFJ in London. "We've had rumors of countries threatening to depart from the euro and comments from officials that sound like people at the heart of Europe are concerned about a possible collapse."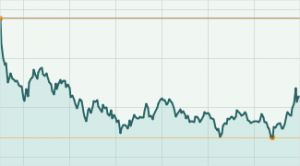 This led to fears that their problems could be transmitted to the United States through the linkages of the global financial system. The Dow Jones industrial average closed 162.79 points lower, or 1.5 percent, at 10,620.16. The Standard & Poor's 500-stock index was down 21.76 points, or 1.9 percent, at 1,135.68, and the Nasdaq composite was off 47.51 points, or 2 percent, at 2,346.85. NYT