Plane crash in Libya 'kills more than 100 on board'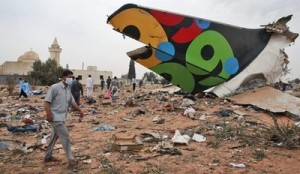 A passenger plane has crashed in Libya, killing more than 100 people on board, officials in the capital Tripoli say.
The Airbus 330 crashed on landing at Tripoli airport after a flight from Johannesburg, Afriqiya Airways said.
Sixty-one Dutch nationals were among the 93 passengers, a Dutch tourism official says. A Dutch boy was the sole known survivor, the Libyans say.
British and South African passengers are also thought to have been on board. The 11 crew were said to be Libyan.
A spokesman for the Dutch tourist association ANWB said that 61 Dutch citizens were on board the flight from Johannesburg. He did not provide any further details.
Meanwhile, Dutch Prime Minister Jan Peter Balkenende said that "several dozen" Dutch nationals were killed.
Speaking at a news conference near the crash site, Libyan Transport Minister Mohamed Zidan said the Dutch boy – the only known survivor – was being treated for minor injuries.
Afriqiyah Airways said on its website: "We are very sorry to announce the tragic loss of Afriqiyah Airways flight 8U771 from Johannesburg in an accident during landing at Tripoli International Airport at 04:00 UTC (06:00 am Tripoli time) today Wednesday 12 May.
"We extend our deepest sympathy to the families and friends of the victims. The search and rescue mission has now been completed."
The BBC's transport producer Sue Emmett reports that the airline said the flight had been due to connect in Tripoli with a flight due for London's Gatwick Airport.
But the airline emphasised that this would have meant changing planes, our correspondent adds.
Some passengers on board had been due to connect with flights for other destinations in Europe.
The 11 crew member were all thought to be Libyan nationals, an airline employee said.
Britain's Foreign and Commonwealth Office said said it was "aware of reports that there were British nationals on board the flight, but this has not been confirmed".
"We are urgently investigating. A consular team from the British Embassy are on their way to the airport. Consular staff in Tripoli are urgently seeking further details," it said.
Not terrorism
Libya's state TV showed footage of a field scattered with pieces of plane debris, and police and rescuers walking with surgical masks and gloves.
The cause of the crash was not immediately known. Some reports suggest the plane crashed very close to the runway.
"It exploded on landing and totally disintegrated," a Libyan security official told news agency AFP.
Mr Zidan ruled out terrorism as the cause of the crash.
The minister added that the remains of 96 victims had already been recovered.
The BBC's Rana Jawad in Tripoli says that the airport is currently sealed off and ambulances have been going back and forth to the airport.
Our correspondent adds that the weather has been sunny and clear over the past few days.
Afriqiyah Airways is a low-cost Libyan airline which was only founded nine years ago and operates a relatively new fleet of Airbus aircraft, the BBC's Wyre Davies in Cairo reports.
It flies many routes between Africa and Europe with passengers often transiting through Tripoli, our correspondent adds. BBC