Russian president: Mideast tension could spark catastrophe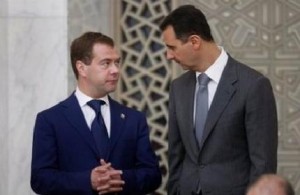 Russia's president said Tuesday that Israeli-Arab tensions threaten to draw the Middle East into a new catastrophe, adding Moscow's weight to a diplomatic push to ease antagonism between Israel and Syria.
The Russian and Syrian presidents, meeting in Damascus, also affirmed ally Iran's right to develop a peaceful nuclear energy program, as world powers press for new economic sanctions to try to stop what they say is really a drive for an atomic weapons capability.
Russian President Dmitry Medvedev, whose country has been building up its influence as a Middle East mediator, pledged its assistance in pushing the region toward peace.
"Tensions in the Middle East threaten to lead to a new explosion or even a catastrophe," he said.
Israeli Prime Minister Benjamin Netanyahu charged Tuesday that Iran is trying to provoke a conflict between Israel and Syria.
"They are spreading falsehoods in order to escalate tensions, and it has no basis," he said during a tour of military installations near the Israel-Lebanon border. "We want stability and peace," he said, offering Syria peace talks without preconditions.
Last month, Israeli President Shimon Peres accused Syria of providing Scud missiles to Hezbollah militants in Lebanon and adding to an arsenal that the Iranian-backed Shiite militants say can reach all parts of the Jewish state. Syria denied the accusation and warned such talk seemed calculated to set the stage for military action.
Before Medvedev's visit, Peres' office said the Russian president agreed to deliver a message to Syrian President Bashar Assad seeking to ease the tensions.
At a joint news conference with Assad, Medvedev did not mention whether he had delivered a message.
Assad, addressing the reporters, leveled more accusations against Israel over its conflict with the Palestinians.
"Expelling Palestinians from Jerusalem, attacking holy sites and besieging Palestinians in Gaza are steps and measures that could completely derail the peace process," he said.
U.S.-mediated indirect peace talks between Israel and the Palestinians began last week after 17 months of deadlock.
The Russian and Syrian presidents met later with the exiled leader of Hamas, Khaled Mashaal, who is based in Damascus.
Russian government officials have met before with Mashaal and other leaders of Hamas, which is shunned as a terrorist organization by the United States and European Union nations.
Syria had also been expected to use Medvedev's two-day visit to lobby Moscow to block new U.N. sanctions against Iran over its nuclear program. Russia, which has veto power as a permanent member of the Security Council, has been reluctant to back a fourth round of tougher penalties.
Assad said sanctions would be "useless and would complicate chances of reaching a solution."
Diplomacy and sanctions have so far failed to persuade Iran to stop parts of its nuclear program that could serve as a possible pathway to weapons production. Iran insists its program is only geared toward peaceful uses like energy generation, but Tehran has not fully cooperated with an investigation by the U.N. nuclear watchdog agency.
In a joint statement issued after their talks, Assad and Medvedev called for a nuclear weapons free Middle East and urged Israel to join the Nuclear Nonproliferation Treaty and open up its nuclear facilities to the U.N. monitoring agency.
Israel is widely believed to have a nuclear arsenal, though it does not acknowledge that.
On Monday Assad met with the leaders of two other Mideast mediators, Turkey and Qatar. Turkey, which mediated four rounds of indirect peace talks between Syria and Israel in 2008, offered to try to revive those efforts.