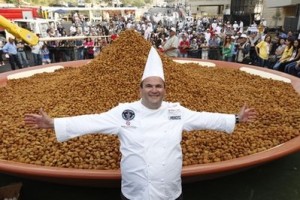 A day after winning the hummus war against Israel , chefs in Lebanon scored another victory but this time with Falafel when the Lebanese chefs on Sunday set a new Guinness record
More than 300 chefs mixed a ton of chickpeas with an equal portion of broad beans, adding onions, garlic, coriander, onion, pepper and cumin to concoct 5173 kilograms of Falafel or 11380 pounds, in Fanar, east of Beirut, Lebanon .
Falafel is a deep-fried patty popular in Lebanon and many parts of the Middle East.
Falafel, like hummus and tabbouleh (chopped tomato, onion, parsley, bruised grain salad), are the objects of a cultural quarrel between Israel and Lebanon.
Israel is accused of claiming an Arab dish as its own. Lebanon set the tabbouleh record last year.
Photo: Lebanon's leading chef, Ramzi Shweiry, center, celebrates with others after preparing a massive bowl of Falafel, a middle eastern dish made from chickpea and beans, seen in the background, weighing 5173 kilograms or 11380 pounds, in Fanar, east of Beirut, Lebanon, Sunday May 9, 2010. Some 300 Lebanese chefs prepared a huge plate of Falafel to register a confirmed world record
This error message is only visible to WordPress admins
Error: No connected account.
Please go to the Instagram Feed settings page to connect an account.