Hariri: No sectarian battle in Beirut Muncipal election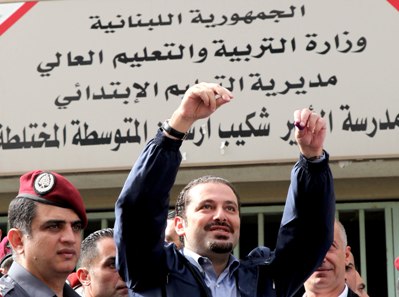 After casting his ballot at the Shakib Arslan school in Verdun in Beirut's municipal elections on Sunday, Prime Minister Saad Hariri rejected describing the capital's race as a sectarian battle.
Hariri told reporters: "These elections are aimed at construction and development. They are for Beirut and the whole of Lebanon."
Hariri addressed the inclusion of Amal party supporters in his Beirut Unity list stressing that there are no sectarian battles in Beirut.
"Some battles may take on a political aspect, but the municipalities are dedicated to development and addressing the people's concerns," he added.
In reference to the failure to reach an agreement with the Free Patriotic Movement over the elections, he said: "Negotiations may be successful or they may fail, but we have nothing against the Free Patriotic Movement."
"We respect the FPM and its political stands and we are partners in government," he continued.
Hariri urged citizens to participate heavily in the elections.
"your vote must be heard and this is a democratic right that should not be disregarded, " he said
Hariri praised the Interior Ministry and the security forces for their efforts throughout the elections.
FPM and Hezbollah announced last week they would boycott Beirut's municipal elections after Hariri unveiled the Beirut Unity list, which includes representatives from the March 14 alliance, Tashnaq party and the Amal Movement.